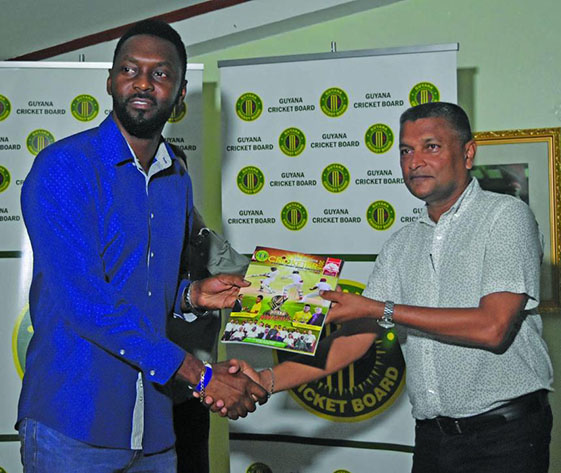 Following Guyana's Under 19 cricket team winning their fifth consecutive title at the Cricket West Indies Regional 50 over tournament, Director of Sport Christopher Jones says he, and by extension the National Sports Commission, is throwing their support behind the Guyana Cricket Board (GCB).
When the team arrived at the Eugene F. Correia International Airport on Thursday to the welcome party including Jones and Honorary Secretary of the GCB Anand Sanasie, the Director of Sport said "We [NSC] would like to continue to support the GCB in its endeavors to ensure not only yourselves [the cricketers] but many other young people with potential like yourselves across the country have equal opportunity like you guys would have had so they can go on to represent Guyana Regionally and Internationally."
According to Jones, who was "speaking on behalf of the Government of Guyana and the people of Guyana," the team should be congratulated and the GCB also.
"As demonstrated by the GCB and its leadership in terms of its five year plan, indeed there plan is working so indeed the GCB has a working plan and is testimony by the results of the games you guys would have been playing," he declared.
The Director of Sport said that it is wishing the Guyana Cricket Board well and "all the best as they continue their push forward so Guyana can continue to be on the map when it comes to cricket."
Similarly, Sanasie said that certainly the GCB has a five-year plan that has been "executed to a T" by the guys in their dominance at this level.
"You have delivered on the plan of the GCB, our five-year plan has been executed to a T and winning this tournament five years straight is something we had in our business plan," Sanasie said.
The GCB Secretary went on to say that the plans of the GCB does not stop but will extend to all levels.
"The only thing left to deliver on is the Regional senior four day competition the PCL which is the Professional Cricket League … and one of it is to win the senior 50-over competition," he declared.
Around the Web