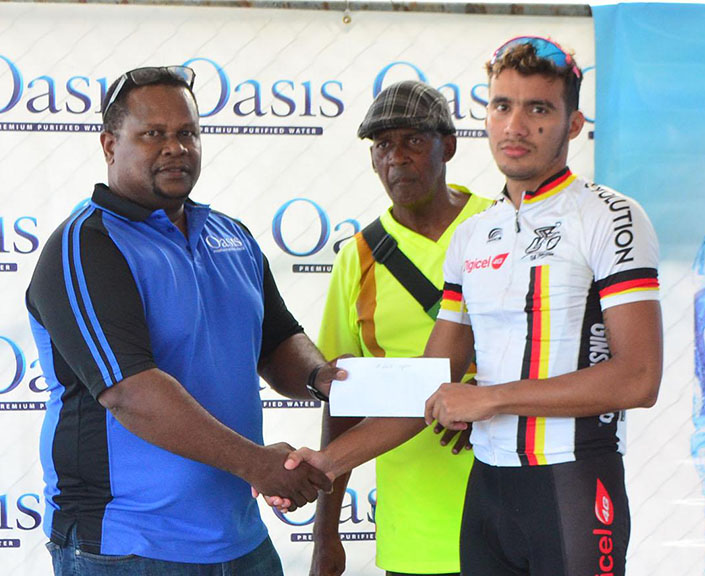 Paul DeNobrega's gutsy solo escape with three miles to go was enough to win yesterday's Oasis Premium Purified Water 75-mile race on the open roads of Berbice.
The Team Evolution wheelsman bested 24 of the nation's premier riders, his bravery earning him the spoils in two hours, 50 minutes and 37 seconds.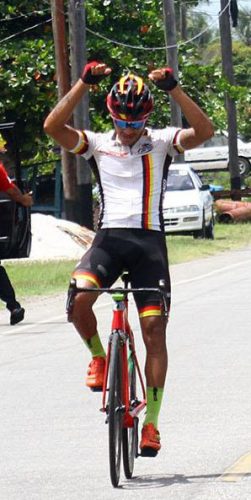 DeNobrega recorded his third win of the season for the event which started and ended in front of the Guyana Beverage Inc. in Palmyra. He led break away mates Andre 'Padlock' Green and Andrew Hicks, both from Berbice onto the podium.
Balram Narine, Romello Crawford and Michael Anthony filled out the top six.
It did not take long for a serious breakaway group to form. On the No. 19 Road, DeNobrega, the rest of the top six along with Paul, Choo-We-Nam, Rastaff O'Selmo, Alonzo Ambrose, Kemuel Moses and Jornell Yearwood managed to escape the clutches of the peloton and worked up an advantage in the early stages of the race.
After the initial split of 11, the race started to animate as counter attacks began off the front of the peloton. Originally it was a group of six chasers which looked to close the gap on the breakaway, but that proved futile with the high pacing up front.
At the turn back point at the No.62 Village, riders in the chase pack looked to instigate another attack in the humid conditions but once again the leaders worked as a team to extinguish their attempt.
However team work was thrown out the window with about 12 miles from the finish when pre-race favorite, Crawford looked to roll the dice with an ambitious solo escape.
His solo sojourn lasted eight courageous miles as DeNobrega and others motored to reconnect. DeNobrega who seemed to have the freshest legs of the bunch, smelled blood and attacked his rivals who failed to respond.
With DeNobrega still up the road in the final miles, Green, knew it was his last chance as he looked to try and bridge across to him. But in the end, the day belonged to the courageous DeNobrega as his devastating late attack was too much for Green as he had to settle for second, with Hicks coming home in third. (Emmerson Campbell)
Around the Web