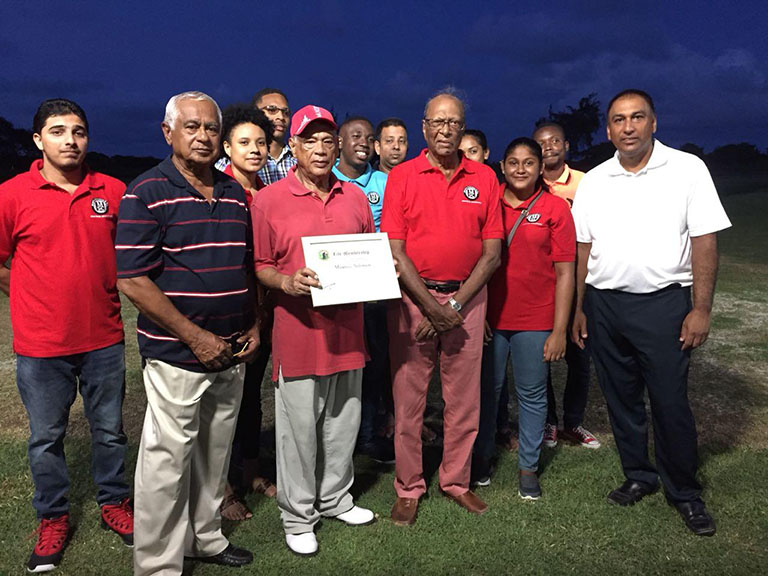 When the curtain came down on the annual Maurice Solomon Golf Tournament at the Lusignan Golf Club (LGC) Saturday, Nazeem 'Papo' Haniff, William Walker and Guillermo Escarraga were the respective flight winners while Maurice Solomon was made an honorary life member of the club.
Capitalizing on the lush green, Haniff played a superb game, ending with a 68/75 score which made him the 'A' Flight winner.
Mike Mangal 70/78 was second ahead of reigning Guyana Open Champion, Avinash Persaud with 70/72 with  Mohanlall Dinanauth (63/78), Kevin Dinanauth (73/76) and Richard Haniff (74/83) rounding out the top performers.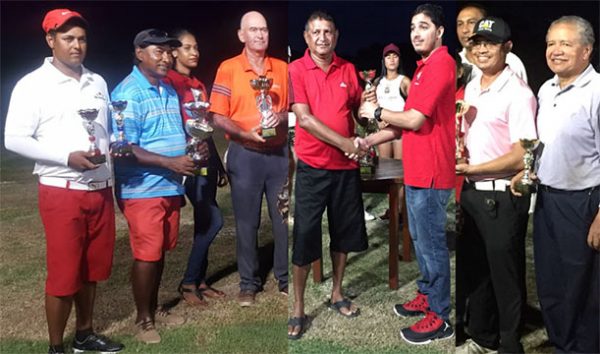 In the 'B' flight, Walker won with a 69/79 score with Bridgelall Harry, 69/86, second, David Harry (70/13) third.
Joaan Deo (70/16), Parmanand Persaud (71/13), Lekhnarine Shivraj (71/17) and Brian Hackett (76/94) were the next best finishers.
Meanwhile, in the 'C' flight Escarraga chalked up a 71/93 score for the top spot ahead of Jorge Medina (75/103), Mark Lashley (78/102) and Troy Cadogan (79/104).
Among other prizes given, Best Gross and Longest Drive, were both won by Avinash Persaud (72), and the Overall Best Net and Nearest to The Pin both was won by 'Papo' Haniff.
 Chief Executive Officers of the Oronoque Street Queenstown-based Chartered Accountants and Management Consultants, Maurice Solomon, who has been involved in the sport for over 30 years, and has been in association with the LGC for that same period, was honoured with a Life Member plaque, to mark his sterling l contribution to the club and the game in Guyana. The quiet, tall, statesmanlike octogenarian, who has maintained his love for and proficiency at the game, is distinctive in his support for all the improvements that the club ventures into.
In a simple ceremony at the end of the tournament, his golfing buddies of over 30 years, Richard Hanoman and Hemraj Kissoon, were present to emphasise their appreciation of the honor bestowed on him. Also all the company's staff assisted in the distribution of the prizes.
Around the Web