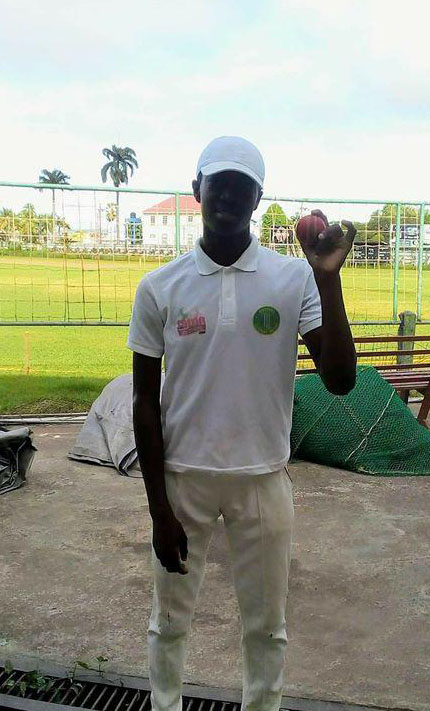 Following his stint with the successful Guyana Under-19 team at the Cricket West Indies Regional Under-19 tournament in St. Vincent, Adrian Hinds says the tournament was an eye opener for him and he looks forward to taking up the mantle of national duty.
The 17-year-old wicketkeeper/batsman became the latest player to come from Transport Sports Club and move on to the Guyana Under-19 side with Keon Morris being the last to do so back in 2014.
Hinds, in an exclusive interview with Stabroek Sport, said "the experience was excellent," pointing out that "being around the guys was very eye opening," especially since this was the first time he was selected to represent Guyana. According to Hinds, he believes that the level of coaching from Julian Moore was very good and indicated that his game "is now more relaxed and clear minded."
The experience gained on the month-long tour, he said he will use as he returns to club cricket and he intends to improve his individual performances and the team's performance as well. Despite being the leading wicketkeeper for Demerara in the Guyana Cricket Board Inter-County Under-19 tournament with five catches and three stumpings to go with his 163 runs in five innings including a blistering 94 against the National Under-17s as well as 33 runs in the lone 50-over match against eventual champions Berbice, Hinds was the only player in the squad that did not play a game.
Nevertheless, the resilient top order batsman has already gotten into the groove with Transport, returning to be the side's top scorer in both innings during their first division clash against University of Guyana Trojans in a first division two-day match recently. With his eyes on the prize, Hinds said he has already begun working on his game and sees just being named in the squad as a step forward.
He noted, however, that there is still lots of work for him to do.  Along with his coach and mentors such as Shaun Massiah, Hinds is working very hard on making the team next year since he will again be eligible, and hopefully, break into the West Indies Under-19 team.
Around the Web