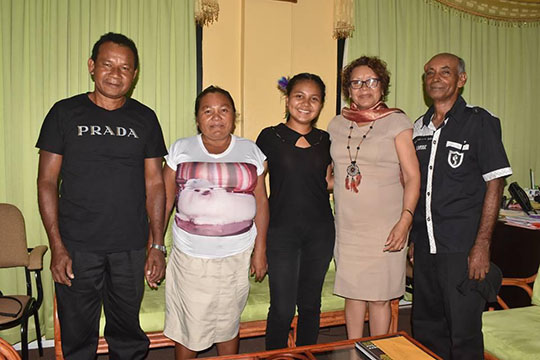 As part of Indigenous Heritage Month of celebrations, National female chess player, Nellisha Johnson on Wednesday paid Minister of Indigenous People's Affairs, Valerie Garrido-Lowe a courtesy call in recognition of the Minister's sterling contribution towards the young woman's journey in the sport.Johnson, who is of indigenous descent, coming from the village of Orealla in Region six began playing chess back in 2012 and has took the female division by storm.
According to Johnson who will be graduating from Christ Church Secondary School after successfully completing her studies of which she was granted a Hinterland Scholarship said this year, Minister Garrido-Lowe has tried leaps and bounds to support her in her efforts, most recently helping her in her quest to be a part of the seventh Junior Carifta Chess Championships in Suriname in March where she earned her official rating points in the sport.
Johnson had been omitted from the team to Suriname despite finishing joint third and being the best female in the junior qualifiers but with the Minister's intervention, Johnson was able to make the trip where she earned herself and Guyana 2.5 points in the Women's under 20 category, moving four places up the rankings. Now, the 16 year old will represent Guyana at the 43rd Chess Olympiad in Batumi, Georgia later this month and has been training vigorously with her trainer, Roy Sharma who has over 30 years experience as well as frequent battles with her younger sister, Waveney, who is also an up and coming player.
This year, Johnson has made tremendous strides in the game, most notably defeating Female Candidate Master, Shareefa Ali in the Female National Championship back in April
Around the Web