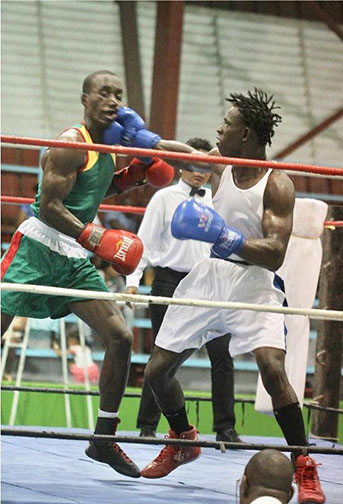 After an outstanding amateur career, Joel Williamson is looking forward to his pro debut on September 22 at the Cliff Anderson Sports Hall.
And it looks like fight fans are going to have an exciting, young light welterweight to follow.
While the 21-year-old former amateur standout knows it will be a different game with new pressures and adjustments to the pro style, he is excited and thinks the time is right to start to punch for pay.
 The hard hitting Williamson feels no pressure as he gets ready to take his vest off and lace it up against Anson Green on the under card of the 'Young Guns- The Proving Ground' dubbed event.
"It feels special, I'll be fighting in front of my fans and family, it's a special moment, I will be a bit nervous but I know what I've got to do. I don't think he will go the distance".
The 2016 Caribbean Senior Championships gold medalist will be tested over four rounds against a game Green.
"I'm feeling great, I'm not worried about Green, I'm training hard to win easy," boasted Williamson.
Williamson who said he racked up in excess of 70 wins along with numerous best boxer awards as an amateur, is trained by Gregory Cort at the Rose Hall Jammers Gym.
Cort gave his charge, a former Olympic hopeful the thumbs up.
Will the upstart Williamson start his career with a win or will Green play the role of spoiler? The answer will be known in 16 days.
Meanwhile, the main course of the event will feature Barbadian, Keithland King taking on the much reviled Derrick Richmond in a six-round middleweight contest.
In the co-feature, the hard hitting James Moore and Romeo Norville will match gloves in a cruiserweight match up scheduled for four rounds. Norville's sister, Ansilla Norville will also be in the ring. The mother of one is scheduled to face Rewinna David in a bantamweight clash scheduled for four rounds.
The organizers have also pit Terrence Adams against Delon Charles in a four-round featherweight fight.
Tickets for the 'Young Guns-The Proving Ground costs $1000 for stands and $2000 for ringside. Bell time is 20:00hrs. (Emmerson Campbell)
Around the Web