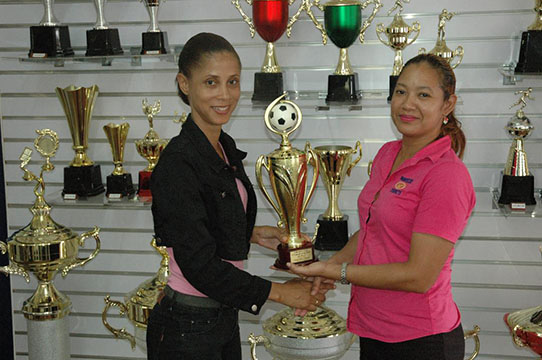 Renowned sports entity, Woodpecker Trophies and Sports, continued its partnership with the Guinness 'Cage' Streetball Championship, donating the fourth-placed trophy Monday at the company's Alberttown location.
Representative of tournament coordinator Three Peat Promotions Loreann Baptiste, received the trophy during the simple but significant ceremony. 
Baptiste, during brief remarks, said the promotional group was grateful for the continued support, adding that the gesture will aid in staging of a successful tournament.
According to Baptiste, Woodpecker Trophies and Sports is an entity that is synonymous with the country's sporting culture, adding that the coordinators strive to achieve a similar status on local shores.
"Once again on behalf of Three Peat Promotions, we are thankful for the support and we hope that relationship can continue to grow with each year," she said.
The tournament dubbed 'The East Coast Best versus the Rest' is being held at the Haslington Market Tarmac with the semi-finals and final set tomorrow.
The semi-final matchups will pit home side Uprising against Broad Street while Sparta Boss will take aim at fierce rival Leopold Street.
The winners will face-off in the grand finale with the losers relegated to the third place playoff.
Among the other entities in support of the event are: Banks DIH under its Guinness and Power Wine brands, Clarks footwear giants Chetsons, E- Networks Inc., KSM Investments, Yhip's Bakery, Brass Aluminum & Cast Iron Foundry [BACIF], Ray's Auto Sales, Insurance Brokers Guyana Limited [IGBL], Y.K. Investments, Trophy Stall, Express Shipping, Woodpecker Products, National Sports Commission, 'C' Division of the Guyana Police Force, Jai Signs & Auto Designs, Gaming Authority, Julius Variety Store, T&J Bookstore and C & C Prestigious Styles.
Around the Web