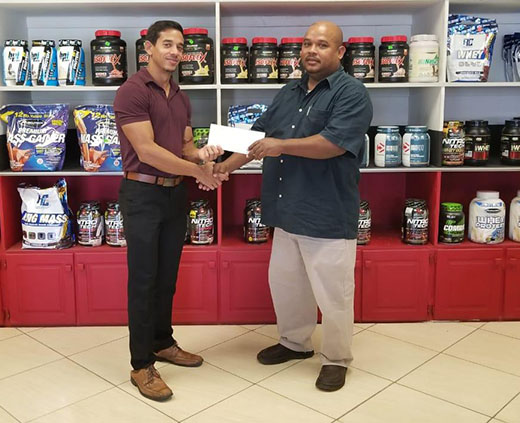 Perennial supporter of the strength sports in the 592, Fitness Express has once again agreed to be a major sponsor of the next powerlifting event; The Raw National Championships scheduled for tomorrow at St Stanislaus College.
CEO of the leading local supplement and gym equipment supplier, Jamie McDonald recently presented a sponsorship cheque to Treasurer of the Guyana Amateur Powerlifting Federation (GAPF), Colin Austin to shoulder the load of the fixture.
Buddy's Gym, Dyna's Embroidery and Ede Tyrell (Powerlifter and Lecturer at the University of Guyana) have also been named as major sponsors for the championship where athletes will be lifting with little to no additional equipment during their lifts.
Participating athletes for Flight A are required to be at the venue mentioned for 8am in order to be weighed in. Weigh in will go no further than 9:30am, hence athletes are urged to be there on time. The competition will begin at 10am. Entrance fee is $1,000.
Persons who are interested in competing for Raw Nationals were required to submit their application and pay their fees. See you there.
Around the Web