Powerlifting standout, Carlos Petterson-Griffith continues to add hardware to his cabinet.
A few weeks after mining gold at the IPF/NAPF Regional Championships in Mexico, 'The Showstopper' returned to the local platform yesterday and chalked up another top-of-the-podium performance at the Raw National Championships staged at St Stanislaus College.
Petterson-Griffith lifting in the 93kg class, showed his strength prowess without the assistance of lifting equipment, starting with a mammoth squat of 305 kg and a bench press of 160kg.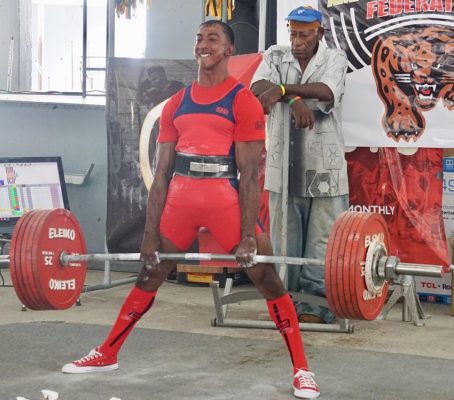 On his way to lifting the overall title with 509.490 wilks points, Petterson-Griffith deadlifted a national record, easily pulling 345kg off the mat. His total of 810kg was also a national record for the class.
Following his exploits, 'The Showstopper' who improves every time he competes, stated that he has his sights set on the Arnold Classic next year March in Columbus, Ohio.
Second place overall with 504. 698 wilks points, Vijai Rahim was also among the records. He rewrote the local history books in the 66kg division with his best squat (220kg), bench press (127kg), deadlift (287.5kg) and total (634.5kg).
Female best lifter, Natoya Robinson was also in record breaking mode. The Buddy's Gym product now owns all four national records for the 84+kg division. Her lifts were 165.5kg (squat), 92.5kg (bench press), 195.5kg (deadlift) and 453.5kg (total).
Robinson tallied 355.816 wilks points, tops amongst the four female competitors.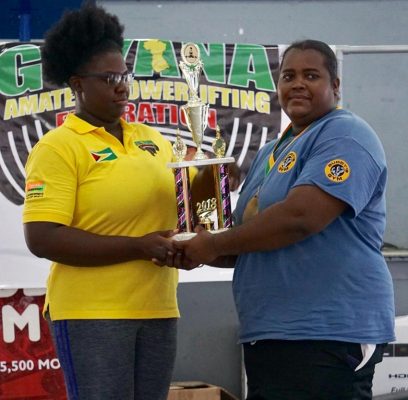 According to reports, Romario Gonsalves (66kg Junior), Lisa Oudit (84kg) and Noel Cummings (66kg Masters 4) also recorded national record breaking performances.
Note: In theory, "Raw" powerlifting means lifting with little to no additional equipment. In practice, "Raw" powerlifting means in competition, athletes are (generally) only allowed to use approved belts, an approved singlet, approved wrist wraps, approved knee sleeves, and chalk.
Fitness Express, The Trophy Stall, Buddy's Gym and Dyna's Embroidery were among the major sponsors of the event.
Around the Web