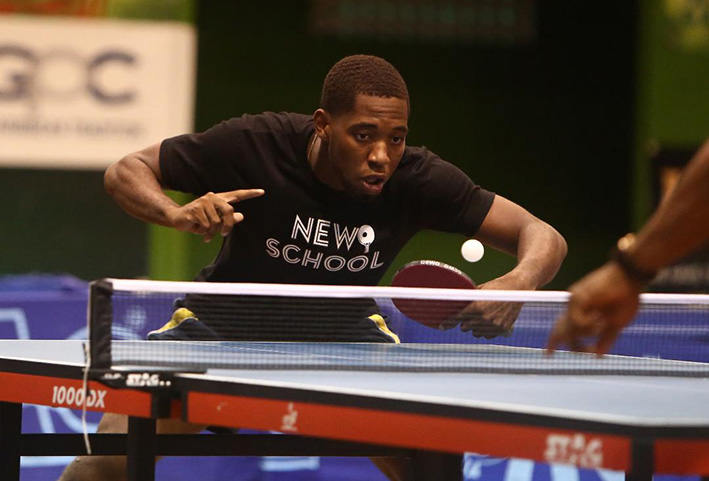 Malteenoes Sports Club (MSC) racket wielder, Shemar Britton is yearning to capture his first singles medal at this year's Senior Caribbean Table Tennis Championship, slated for Jamaica from September 23-29. 
 The 20-year-old who made his senior debut for Guyana at the tender age of 14, has so far collected two senior Caribbean bronze medals in teams and doubles categories respectively and revealed to Stabroek Sports of his desire to climb higher on the podium, in those categories. 
  "This year I'm looking for my first singles medal and also improve on the colour of medal we won in the teams and doubles [category]." the lefty disclosed. 
 "This year I believe getting a medal is well within my reach due to the fact that I'm coming off some good wins and good performances against the other top medal prospects around the Caribbean… [including] the reigning Caribbean champion in November of last year," the former junior silver medallist added. 
Not frugal about the details of his preparations, the young man who is currently at the University of the West Indies in the Twin Island Republic completing his Law degree, explained that though it's not ideal, he's making the best of it which involves, working out with Trinidad's national team.
 "I've recently moved to Trinidad to further my studies at UWI. So being away from my team during preparation isn't ideal, but I've been playing with some of the members of the Trinidad national team to get match ready for Caribbean Championship." 
 At a glance into his career archives, the results would show his best return being a quarterfinal exit, two years ago in the Dominican Republic, the same year he captured bronze in the teams' category. 
His transition into the national team
 Asked about his transition into the national team, Britton, a southpaw with immense ability, said it's been a smooth ride and credits some of the past and current players for embracing his ambitions. 
 "I've been lucky enough to have joined the senior men's team for Guyana at a relatively young age; this year will make my fifth year as a full-fledged member of the senior squad.
 "To be honest, I've probably had one of the smoothest transitions from junior to senior since I was given the opportunity by the association to be a part of the senior team from a very young age 14 where I wouldn't be under pressure to deliver results instantly. But I got to learn and blend with the more experienced guys such as Idi Lewis, Godfrey Munroe, Christopher Franklin and Matthew Khan. 
 "My first senior tour, in fact, was at the Commonwealth Games with those guys. And due to being around those guys and training with and playing alongside them I've been able to soak up information and experiences that now as an actual full fledge senior I'm able to play a more prominent role on the team."
 For Britton, and the others, the championships present an added incentive since it will serve as a qualifier for the Pan American Games in Lima, Peru, next year. 
Around the Web