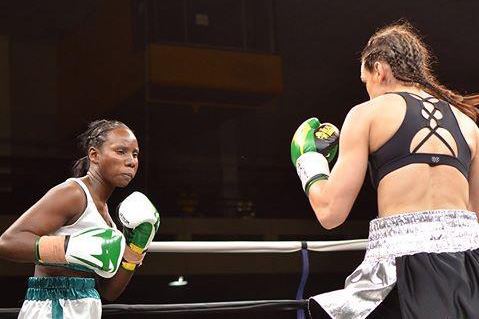 Rewinna David may not be a household name just yet but the female boxer will look to change that, one fight at a time.
David, who is scheduled to appear on the 'Young Guns-The Proving Ground' card on September 22 at the Cliff Anderson Sports Hall, is looking to make a splash in the ring here and further afield.
The Ricola Gym product is scheduled to face amateur nemesis, Ansilla Norville, in a four-round bantamweight contest.
Quick Stats
23 years old
Born in Berbice and lives in Georgetown
Mother of two
Has a record of 0W-1L-0D
Coached by former world rated boxer, Clive Atwell
Her story
David started boxing at the age of nine at the Pocket Rocket Boxing Gym in Berbice. She was inspired after watching other young fighters in the gym and boxing cards on television. Since then, the sport has become an integral part of her life.
Under the mentorship of Atwell along with the experience she gained as an amateur, David is convinced she has what it takes to be a future world champion.
"I want to become a world champion one day and I am working towards that," said David yesterday.
Despite her debut loss to Italy's Federica Bianco in Jamaica this past March, the New Amsterdam born David is confident of improving her record in the win column.
"Actually I am putting my best foot forward to win this fight. I am training hard and I want to win for my kids and my family, I am looking forward to win next weekend."
Everybody loves a winner and if David can string together a few wins and gets a world title crack down the road, she will surely be a household name.
Meanwhile, co-promoter of the card, Dexter Marques is urging fans to come out and support the young talent. The event will be headlined by Barbados' Keithland King and the much reviled Derick Richmond in a highly anticipated six-round middleweight bout.
In the co-feature, the hard hitting James Moore and Romeo Norville will match gloves in a cruiserweight match up scheduled for four rounds.
The organizers have also pitted Terrence Adams against Delon Charles in a four-round featherweight fight and Anson Green against debutant, Joel Williamson. The pair will match gloves in a four-round light welterweight bout. 
Tickets for the 'Young Guns-The Proving Ground' costs $1000 for stands and $2000 for ringside. Bell time is 20:00hrs.
Around the Web