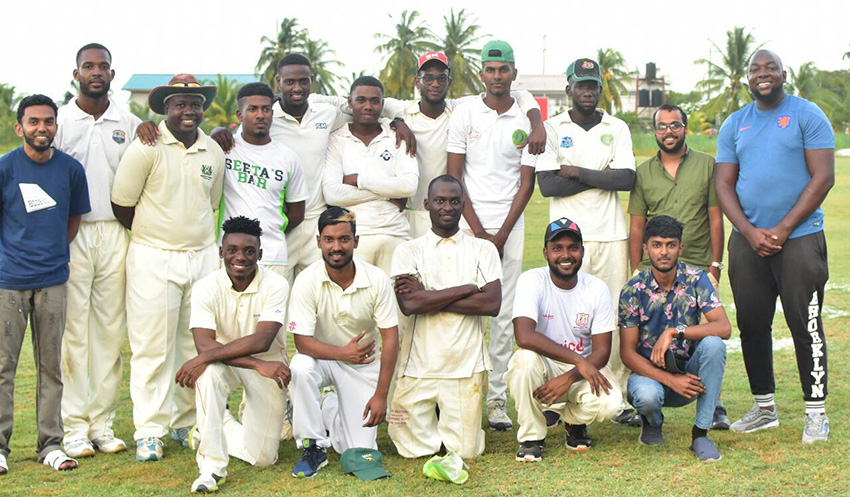 The University to Guyana's (UG) cricket team is set to participate in the second edition of the Cyril Bonar T20 competition in Paramaribo, Suriname on September 22-23.
Matches will be played at the Dr. Snelle Park, during the two-day event with the finals culminating under lights on the 23rd.  The team's participation was made possible through the support of corporate Guyana.
Leading the list was Grace Kennedy Remittance Service under the Western Union brand which presented a sponsorship cheque to the team as part of Western Union's celebration of its 25th Anniversary of doing business in Guyana. 
The other establishment to come on-board was Devcon Construction and Contracting Services. 
Meanwhile, manager of the team Faruq Ally told Stabroek Sports that the team is quite confident of returning to Guyana as champions, citing UG's continued improvement as the primary reason for his bold prediction. 
"The team is expected to come out on top and win this tournament," Ally confidently said.
"We have been playing excellent cricket for the past 12 to 18 months across all formats in the Georgetown Cricket Association's competitions; It's not the same UG team that everybody once knew, we have transformed and grown our exposure in this sport. We even had three of our guys getting a GCB franchise call-up, and we would expect a lot from them," the manager added. 
The team will depart next Thursday and will be led by experienced all-rounder Dwayne Dodson. 
Squad: Dwayne Dodson(Captain), Linden Austin, Omesh Danram, Ershaad Ali, Devon George, Lloyd George, Suresh Dhanai, Ray Newton, Dennis Heywood, Godfrey Matthews, Pavindralall Persaud, Mahendra Persaud, Nicholas Bollers and Kierre Henry; Special Guest is Tremayne Smart, Windies Women's T20 player. Manager: Faruq Ally, Coach: Kenroy Joseph
Around the Web