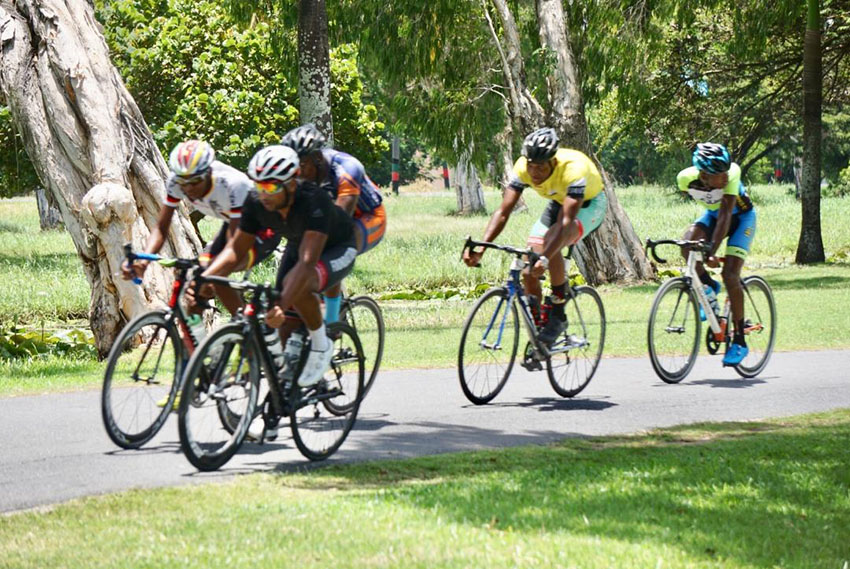 A gutsy solo escape with three laps to go by Walter Grant-Stuart was enough to win him yesterday's feature 35-lap event of the Rainforest Waters 11-race programme. 
The one-armed wheelsman bested 24 of the nation's best cyclists, his bravery earning him the spoils in one hour and 17 minutes in perfect conditions for racing in the National Park. 
Grant-Stuart led break away mate, Christopher Griffith and Marlon 'Fishy' Williams who had a late push onto the podium.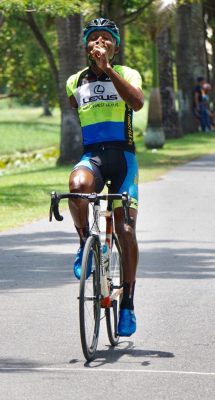 Junior Niles, Michael Anthony and Geron Williams completed the top six positions. 
 After the 19th lap, a strong five-man break of Grant-Stuart, Griffith, Anthony, Geron Williams and Alonzo Ambrose was established. 
There they stayed until the peloton, led by 'Fishy' Williams wheeled them in with six laps remaining. 
Soon after however, another five-man break which included Grant-Stuart was established and they worked together to stave off the others. 
He quickly changed tactics when he realized he was the weakest sprinter on the break. 
Grant-Stuart, who seemed to have the freshest legs, rolled the dice and decided to go on an ambitious solo escape. 
He smelled blood and attacked his rivals who failed to respond.
Fortune favors the brave, and his late, courageous attack paid dividends to silence the doubters. He eventually soloed to victory, crossing the line with his sole index finger on his lips. 
Other winners yesterday included: Kennard Lovell (O-50), Niles (U-50), Emmanuel Gayral (Juveniles), Javin Henry (BMX Boys 6-9 years), Shaquille Dow (BMX Boys 9-12 and 12-14) and Jaheim Henry (BMX Boys and Girls 12-14). 
The cycling season continues next Saturday at the same venue with the Laparkan 11-race programme.
Around the Web