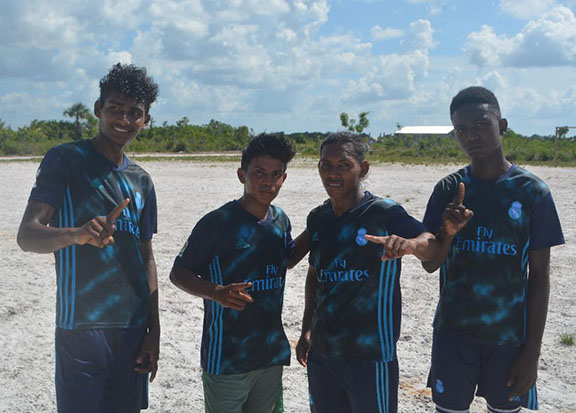 Swan defeated St. Cuthbert's Mission by a 4-2 score line in the Region #4 Heritage Games Playoff on Sunday at the St Cuthbert's Mission ground.
Eran Hussain opened the scoring for Swan in the 11th minute. St. Cuthbert's Mission equalised in the 23rd minute, as Zack Ferreira etched his name on the scorer's sheet.
However, Swan retook the lead in the 31st minute compliments of a Mellon Joseph conversion.
Ishmael Pulsaram increased their lead, as he found the back of the net in the 53rdminute, before Edson Williams made it 4-1 four minutes onward.  Leo Evans added some respectability to the score line, netting a consolation goal in the 59th minute. The tournament is being
Coach and manager of the Swan Football Team, Andre Gonsalves during a post-match interview said, "I think we may have missed about two or three scoring opportunities but overall we played very well and it is reflective in the results."
He further said, "This is our first year playing in the competition as we pulled out last year before the play offs owing to what we termed as unprofessional and unsportsmanlike behaviour of some of the players representing other teams. However, thus year we are here and I can assure you that while we are fielding a young team the guys are very determined to win this playoff."
Swan will now await the winner of the Laluni and St. Cuthbert's mission match, with the victor of that contest representing the region at the 2018 Heritage Games Championship.
Around the Web