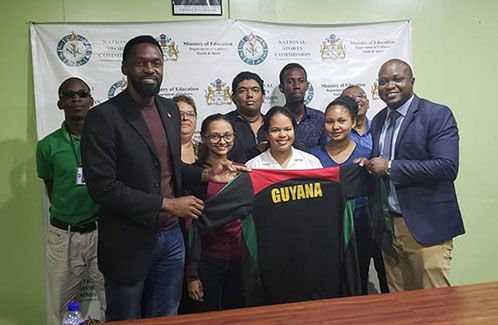 As Guyana descends to the shores of Batumi, Georgia for the 43rd Chess Olympiad, Vice-President of the Guyana Chess Federation (GCF), Irshad Mohamed, is confident  the eight-member team will achieve some personal milestones.
Speaking exclusively to Stabroek Sport, Mohamed was enthusiastic over the level of skill of members of the team for the tournament which will run from September 23 to October 7.   He stated that Anthony Drayton, the highest ranked male player has already received the title of Candidate Master and although he is yet to reach the necessary FIDE points, he is confident he will do so this tournament.
Similarly Taffin Khan, with 1900 points is on the same path while Loris Nathoo (1665) and  Glenford Corlette (1653) are also looking to improve their points.
Among the female contingent, Maria Varona-Thomas, already a Women's Fide Master is easily Guyana's highest ranked female player, achieving this title after her participation in the 42nd Chess Olympiad back in 2016.  Also in the team, Women's Cadidate Master shariffa Ali along with Varno-Thomas was part of the maiden trip of women from Guyana to participate in the Chess Olympiad in 2016 while the men had participated four times prior.
Mohamed is hopeful Ali could pick up the Women's Fide Master title while expressing his confidence in Nellisha Johnson with 1365 and Sasha Shariff who is yet to earn her rating points.
The Vice-President also announced that Surika Danraj is the head of delegation whose trip expense is paid by President of the GCF, James Bond who is to join the team later.
As of yesterday, Mohamed explained that the team had arrived and was in good health, adding that the team should do well and that he fancies their chances in the lower categories.
According to Mohamed, the cost of the trip is around four million dollars and has been shared by the organisers and the GCF with corporate sponsors such as Courts Guyana, Kings Jewelry, Ministry of Health, National Sports Commission, Trophy Stall, Sasha Cells, Power Producers and Distribution Incorporated and others contributing.
Mohamed said he was disappointed by the abrupt decision by Wendell Meusa to pull out of the tournament but respected his decision, contending that the team could have been more competitive with him inside.
Meusa stated "due to personal problems and problems with the Guyana Chess Federation, I have decided to pull myself out of the National Team."
The Vice-President noted that while Meusa and Yolonder Persaud, who is currently studying abroad are not on the team, the team is still with its full quota of four per gender.
Around the Web