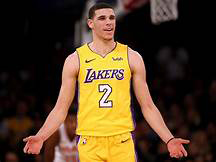 Rajon Rondo will be the starting point guard for the Los Angeles Lakers when the regular season begins next month.
Head coach Luke Walton told ESPN that Rondo is ahead of Lonzo Ball, who is still recovering from offseason knee surgery, in the rotation until further notice. Ball was cleared to participate in workouts yesterday. He is not yet cleared to scrimmage, Walton said.
Rondo signed a one-year, $9 million deal in July. The 32-year-old is one of several veterans who joined the new-look Lakers on short-term deals, including forward Lance Stephenson and center JaVale McGee, to complement LeBron James.
Rondo said when he signed that he was excited to mentor Ball, the No. 2 overall pick in 2017.
"I'm excited to get a player at that age and try to help him as much as I can, as far as understanding the game and getting his game up to speed at a high level," Rondo said.
Rondo played in 65 games with the New Orleans Pelicans last season, averaging 8.3 points and 8.2 assists per game.
Ball could be in for what team president Magic Johnson called a "breakout season," once he's healthy.
According to Johnson, Ball spent the offseason reinventing his shooting form.—Field Level Media
Around the Web