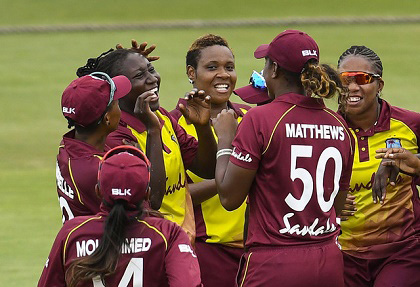 BRIDGETOWN, Barbados, CMC – West Indies Women's head coach, Hendy Springer, believes the squad's development would be further enhanced by playing two and three-day matches.
Speaking after the hosts came from behind to earn a 1-1 draw in the three-match ICC Women's Championship series against South Africa at Kensington Oval last week, Springer said the longer matches would also help improve the consistency of the players.
"[They need to be] more consistent. Me and the captain (Stafanie Taylor) had a long discussion [during the series]… not only about consistency but about the things that would generate consistency," the former Barbados off-spinner said here.
"I am one who believes that at some point in time we should play longer games – two-day, three-day games – to ask these girls to bat, 'let me see what you're really made of', as opposed to just the Twenty20 and 50-over.
"I believe their range of skill would be sharpened because of the length of the game."
The Windies entered the One-Day International series as favourites but suffered a shock 40-run defeat in their opening game to fall 1-0 behind in the series.
They faced a decider in Saturday's final match after the second ODI was washed out, and they executed brilliantly to come away with a 115-run victory.
"It could've been a lot different. It only goes to show the girls have got the frame of mind, the girls have got the will to win and they've got the ability to execute," said Springer.
The Windies then drew first blood in the five-match Twenty20 series when they beat the Proteas by 17 runs on Monday, despite managing only 124 batting first.
And Springer said the winning effort showed the determination within the group.
"I learnt they've got the capacity to learn and to win and it is good … that we can see their execution as well. I think that has been tremendous over the last couple days," Springer pointed out.
"It was hard work. [Scoring] 120-odd – we didn't reach the 150, 60 or 70 score we would've liked but we knew once it was hard going for us, it would've been hard going for them too, providing that we planned our attack really good which we did and the girls executed – one, with good bowling [and] two, with good fielding as well."
The last four T20Is will be played at the Brian Lara Stadium in Trinidad starting Friday, and Springer believes it will take more hard work to clinch the series.
"I guess the pitches will be a lot different, the grounds, the support maybe more, the support maybe less but it doesn't matter. What we are in control of is how we execute – how we plan and how we execute," he stressed.
"It won't be easy because you have five [matches]… and a lot of hard work will be going into winning the next two, winning the next three and trying to seal the series in that respect."
Around the Web