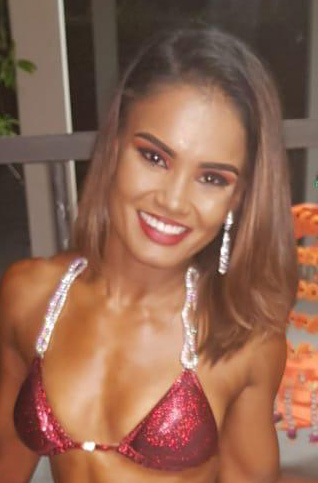 Guyana's Miss Bikini Champion, Chandini Khan has once again taken her talents overseas.
Khan who captured the Senior Miss Bikini title two months ago, will look to continue her ascent on the fitness ladder when she takes on some of the Caribbean's best tonight at the Darcy Beckles Championships in Barbados.
Tanned, toned and clad in stilettos, Khan plans to use her perfect mix of beauty, style and muscle to carve out a top three finish in her second international outing.
After a grueling six-week contest prep under the guidance of popular trainer Omar Hope, the 25 year-old is ready to take the stage.
"I'm thrilled about this experience and I am confident about my package" said Khan yesterday. "I'm not aware of who I'll be competing against, but I am aiming for the podium."
The Fitness Paradise's product work ethic allows her to be confident.
After a third place finish last year at her debut international outing in Suriname, Khan continues to refine and polish her physique. A podium spot at one of the Region's most prestigious championships could very well be a foregone conclusion. Guyana is also being represented by five-time Mr. Guyana, Kerwin Clarke and Yannick Grimes.
Around the Web