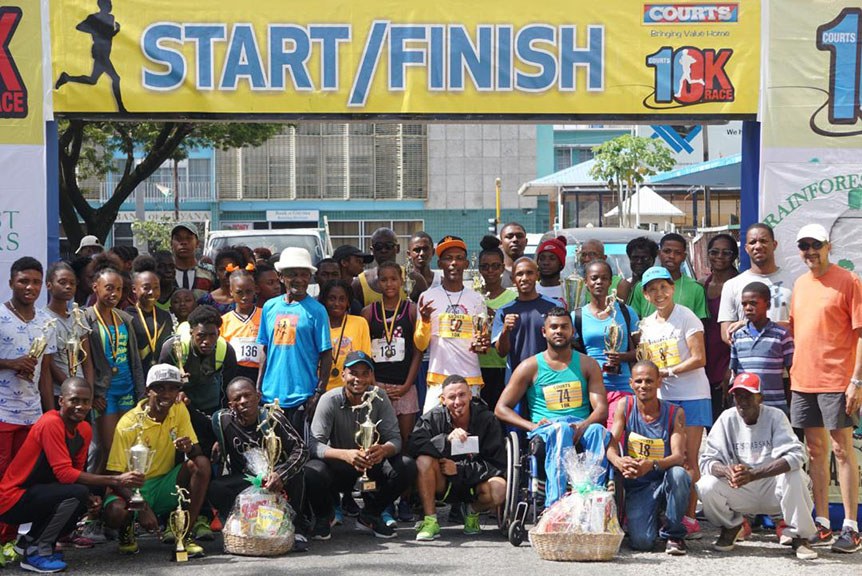 It took him quite a few tries, but after yesterday, Winston Missigher can finally call himself champion of the marquee Courts 10k road race.
Missigher ran tactically to spring an upset of Cleveland Forde, the perennial winner and favourite of the annual event in a thrilling two-man finish on Main Street.
The Police Progressive Club standout took the top honors in the eighth edition of the race in 33m: 29s, leading Forde (33:30) and Cleveland Thomas (34:13) onto the podium.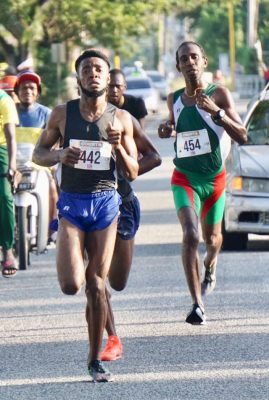 Jonathan Fagundes (35:09), Odwin Tudor (35:34) and Tyshon Bentick (35:44) rounded out the top six.
"I've always wanted to win this race, said Missigher in a post-race interview. "I've won other races before, but I've never won this one. I am glad I was able to pull out the win."
The race got off to a flying start with Thomas and Fagundes setting a high pace with the rest of the top six and the others closely behind.
Thomas and Fagundes stayed together in the lead until the 6k mark where the latter fell off the pace.
Thomas was quite content to continue his journey solo but with 3km to go, Missigher and Forde bridged the gap and the top three local distance athletes barreled to line.
As the three runners entered the eastern carriageway from Lamaha Street, Missigher seized the lead with Forde and Thomas following closely behind.
Everyone was waiting for Forde's customary gear change and for him to secure another top of the podium finish. Missigher had other plans.
Traditionlly, Forde would change gears about 600m from the line to claim victory, but on this day, Missigher upped the ante at about 700m from the finish and Forde was caught off guard.
Forde desperately tried to secure his seventh Court's 10k title, but a game Missigher had just enough left in the tank to hold off his valiant effort by the tick of a clock.
In his seven starts, yesterday was the first time Forde affectionately called 'The Little Kenyan' was relegated to a runner up spot. The 33 year-old was gracious in defeat.
"No excuses, the better man wins every time and the better man today was Missigher, that's why he won today."
Forde said like anyone else, he will be gunning for the win when he next competes on the road. The South American 10k series starts later this month in Suriname and he will be looking for bounce back wins. For now, the spoils and the praises belongs to Missigher, one of the most consistent athletes on the local scene.
The winners of the open male and female categories pocketed $100,000 each, while the immediate runners took home $80,000, $60,000, $40,000, $20,000 and $10,000 respectively.
Meanwhile, Kezra Murray, Ashanti Scott, Leyanna Charles, Maria Urquhart, Shaunsel Adams and Latoya Perreira were the top six finishers in the female open category.
A Golden mile for youths along with a 3K event for staff members was also staged yesterday as part of Court's 25 year anniversary celebrations. (Emmerson Campbell
Around the Web