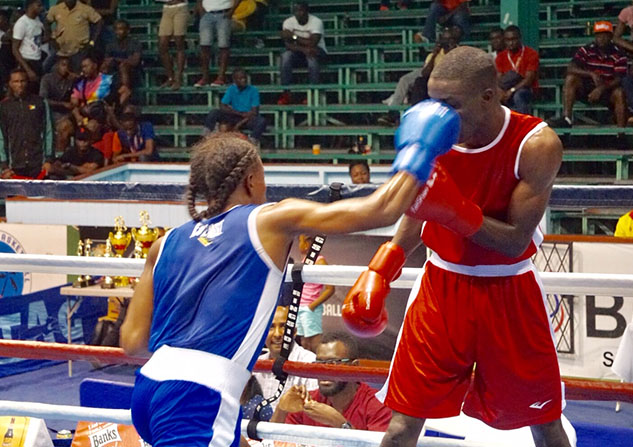 The largest crowd for an amateur boxing event in recent memory showed up at the Cliff Anderson Sports Hall last night to witness the finale of the Caribbean Boxing Championships and the local pugilists did not disappoint.
From the gloves of  several gold medal performances, Team Guyana regained the coveted country trophy for the fourth annual fixture which was birthed in the 592.
Guyana finished atop the medal table with 10 gold medals following the conclusion of the four-night championships which was previously held in Barbados and St Lucia. Trinidad finished with four gold medals while Barbados, Guadeloupe, St Lucia and St Maarten finished with one apiece.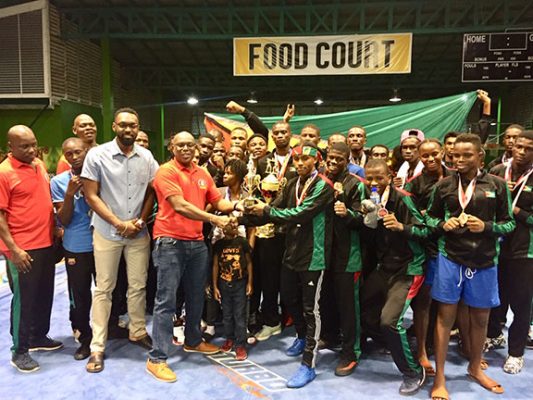 While Guyana boxed its way to the team honours, prize pugilist, Keevin Allicock (bantamweight champion) was the fighter who took home the individual overall best boxer award.
Full fight details below. The asterisk denotes the winner.
Novice Light Heavyweight 
Aston Niles* (Guyana) vs Delroy Charles (Dominica)
Women's Light Fly 
Joanne Williams (Guyana) vs Brandy Barnes* (Cayman Islands)
Novice Welterweight
Quincy Boyce* (Guyana) vs Shemar Bertram (St Maarten)
Novice Super Heavyweight 
Emmerson Farley (Guyana) vs Tyrone St Clair* (Trinidad)
Youth Women Light Flyweight
Janasia McAlmont (Guyana) vs Faith Ramnauth (Trinidad)
Youth Women Jr Featherweight 
Aleisha Jackman* (Guyana) vs Corrie Mapp (Grenada)
Women Light Welterweight
Abiola Jackman* (Guyana) vs Sharika Elias (Trinidad)
Women's Lightweight 
Akeela Lamazon (Guyana) vs Tiana Guy (Trinidad) (Fight was not held)
Lightweight 
Jamal Eastman* (Guyana) vs Jessie Beckles (Trinidad) 
Heavyweight
Aubrey Headley (Guyana) vs Andrew Fermin* (Trinidad)
Light Welterweight 
Michael Alexander* (Trinidad) vs Justin Edwards (Barbados) 
Welterweight 
Jamal Edmund (Barbados) vs Lyndel Marcelin* (St Lucia)
Super Heavyweight
Shamar Mingo (Guyana) vs Nigel Paul* (Trinidad) 
Light Heavyweight
Mark Pierre* (Guyana) vs Deion Pruitt (USVI)
Middleweight 
Desmond Amsterdam* (Guyana) vs Arthur Langlier (St Lucia)
Bantamweight 
Keevin Allicock* (Guyana) vs Ajayi Jones (Barbados) 
Around the Web