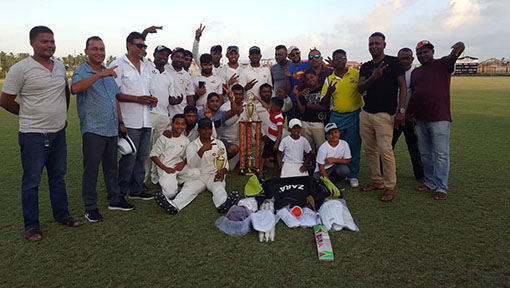 In a disastrous end to a beautiful day of cricket and when the dust finally settled, Lusignan A,  on the back of Kumar Bishundial's 6-6 were crowned champions with a 49-run win over Enterprise who played under protest at the Enmore Community Centre Ground on Sunday in the long overdue SPR Enterprise/East Coast Cricket Committee 40-overs tournament.
Lusignan batted first, posting 168-9 from their allotted overs before dismantling Enterprise for 119 in 36.3 overs.
After the match finished into the night, the umpires related to the organisers that Enterprise were playing under protest while one of the organisers acknowledged receiving a letter of protest with the last pair in the second innings batting.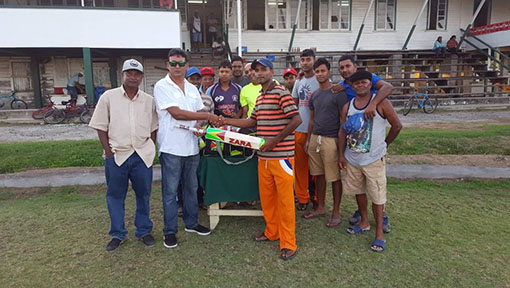 Tempers were getting out of control with the organisers and a national player exchanging words after which the national player's family also got involved.
Nevertheless, the presentation got underway with the sponsors expressing their displeasure with the way things unfolded after the game while the organiser said he was embarrassed by the way Enterprise behaved, having done so in a final only last weekend as well.
The organiser stated that he will no longer be a part of any cricket since his family and others were also in the midst of the verbal attacks.
During the match, Robin Williams was the anchor for Lusignan, scoring 35 and sharing in a 52-run partnership with Krishna Deosarran (23) after Steve Ramdass (14) and Gavin Boodwah (17) were back in the shed.
Vishnu Ramjeet utilised the platform set to come in and top score with 37 while Pradesh Balkishun (2-20) and Dave Persaud (2-17) were the most successful bowlers for Enterprise.
In reply, Enterprise began their chase in the final of the tournament that has been playing for over 18 months with Bishundial taking apart the batting line up. Bishundial accounted for the wickets of Raju Pooran and Balkishun falling in his second over with the score only on five while Bhaskar Yadram was bowled after three flambouyant boundaries.
Parmanand Dindial and Kamesh Yadram essayed a recovery of sorts for a brief moment, scoring 26 and 17 respectively while Rohan Mangal (13) and Dave Persaud (25) managed starts but did not carry on.
During the presentation, Anil Persaud, who is an executive on the East Coast Cricket Committee presented three clubs, including Enmore and Lusignan with gear compliments of Zara Guyana.
Around the Web