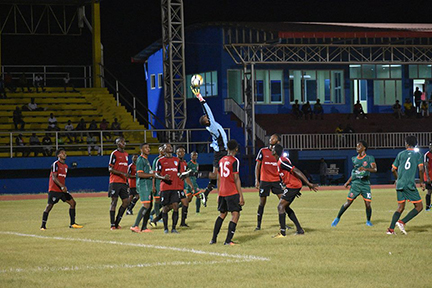 Fruta Conquerors and Den Amstel clinched convincing quarterfinal wins over Milerock and Victoria Kings respectively, when the Guyana Football Federation (GFF) 'Stag Beer Super 16 Championship', continued on Wednesday.
Staged at the National Track and Field Centre, Leonora, Fruta Conquerors dismantled Milerock 4-1.
The Tucville-based unit got off to the perfect start in the second minute, as Eon Alleyne opened the scoring compliments of a penalty conversion.
The lead quickly grew as Alleyne recorded his second goal in the 11th minute. Latching onto a poor clearance by the rearguard, Alleyne made no mistake as he blasted his effort into the back of the net.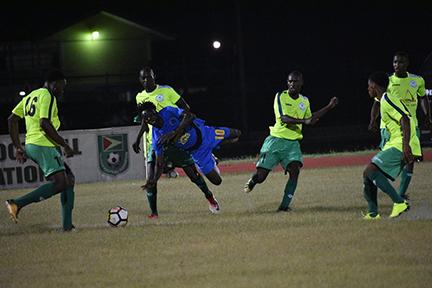 Alleyne was once again the primary protagonist in the third goal recorded in the 33rd minute, racing away from the back-line before squaring the ball to the onrushing Nicholas MacArthur who clinically slotted home.
The 3-0 score remained unchanged heading into the halftime interval. The Linden outfit eventually pulled one back in the 66th minute compliments of a Delon McAllister conversion.
The goal emanated from a mistake between defenders Solomon Austin and Reshawn Ritch as McAllister was presented with a one-on-one situation with custodian Akel Clarke, before slotting into the net.
The scoreline was completed in the dying moments as MacArthur found the back of the net in the 90th minute.
Speeding away from the defence down the left side of the field, the wily MacArthur rounded the goalkeeper and finished into the back of the net.
Meanwhile, Den Amstel downed Victoria Kings 2-0. Kester Jacobs bagged a double in the 31st and 82nd minute. The event continues today with the semi-final round.
Complete Results
Game 1
Fruta Conquerors-4 vs Milerock-1
Fruta scorers
Eon Alleyne-2nd and 11th
Nicholas MacArthur-33rd and 90th
Milerock scorer
Delon McAllister-66th
Game 2
Den Amstel-2 vs Victoria Kings-0
Kester Jacobs-31st and 82nd
Around the Web