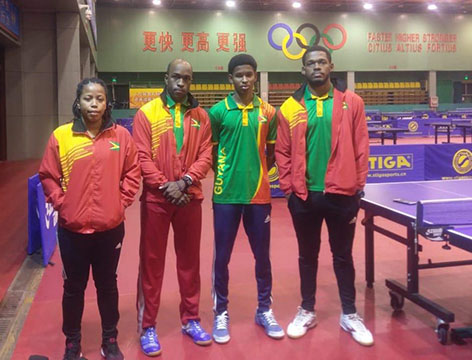 Guyana's national Table Tennis players, who participated in a one-month high-level training camp at the Hebei Zhengding Table Tennis Training Centre in China, have returned. 
The quartet of Natalie Cummings, Joel Alleyne, Nigel Bryan and Elishaba Johnson, who a month ago departed Guyana for the table tennis-crazy country, returned only a few days ago and without hesitation, shared their experience with Stabroek Sport during  an exclusive interview.
For the 29-year-old Alleyne, the experience gave him every opportunity to focus solely on elevating his game which he relished. 
"The experience was definitely amazing and was very useful," Alleyne told Stabroek Sport.
"I was able to completely focus on table tennis and ways to improve my level of table tennis. The environment created at the Zhengding Table Tennis Club allows one to comfortably focus on table tennis in detail, almost 24/7 without any distractions."    The trip to China was organized by the Guyana Table Tennis Association (GTTA) in tandem with the Chinese Embassy in Georgetown as one of the chief preparatory events for the 2019 senior Caribbean championship slated to be held in Guyana. 
The championship will also be used as a qualifier for the 2019 Pan American games in Peru, a qualification which is high on Alleyne's agenda following his stint in the table tennis mecca of the world. 
"My personal goals after this stint would be to first win as many matches as I can in an effort to have Guyana qualify for the Pan Am games and also to have our first Caribbean gold medal. 
"After that is completed, my next goal is to have my first singles medal at the Caribbean championship… after I have completed the task of being in the individual medal winners at the Caribbean level, I can set further goals," the young man assured while declaring that his game has improved following the 30-day exchange. 
Cummings, on the other hand, who is the reigning female national champion and lone female to make the trip to China, also hailed the initiative. 
"The training stint in China offered a great opportunity to experience first-hand how the Chinese train. China, for many decades, has the reputation of dominating the sport in both the men and women at every competitive level," she told Stabroek Sport.
Asked whether the experience has significantly impacted her game, Cummings said that it was still early days to cast any judgement on the consolidated value of her recent exposure. 
However, she noted that the environment at the training centre is one that acts in the interest of developing one's game.  
She also pronounced on the rigid 2019 calendar which includes the all-important senior Caribbean Table Tennis Championships.
"The whole objective for the stint was to give the players an improvement platform ahead of the championship. We have every intention of winning. So yes, I'm upbeat. Because having that title is the first goal of 2019," she assured.
Around the Web