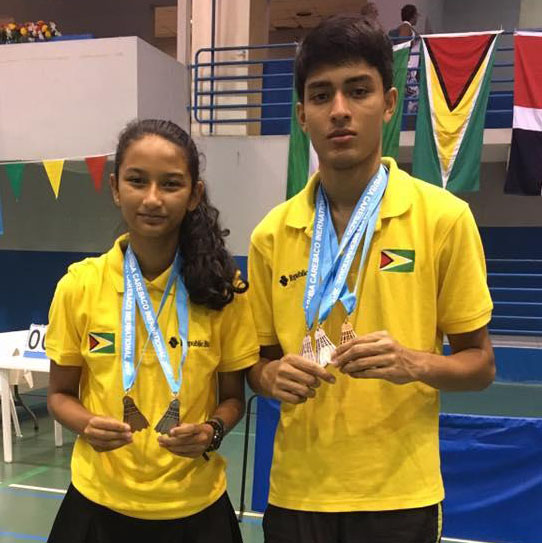 The Guyana Badminton Association (GBA) is satisfied with its achievements for 2018. 
So says president of that association Gokarn Ramdhani.
The most measured achievement of the Ramdhani-led association during the year was the surging up the world rankings of the national youth team after participating in the world junior badminton championships held in Canada last November.
The Guyanese headed into the championships ranked 104 in the world but remarkably rose 72 places and are now ranked 32nd among the 175 playing countries.
The achievement, according to the Guyana Badminton Association (GBA), is quite a significant one which augers well for the team moving forward.
"This is a very good achievement for us and we showed that we can stand up to the competition from the international players from around the world although our team is quite young, " Ramdhani declared.
 "Countries that came in below Guyana [ranked between 33rd and 40th place] are New Zealand, Poland, Mongolia, Uganda, Australia, Macau China and Slovakia,"  Ramdhani added.
 Sharing his overall thoughts on the calendar year 2018, Ramdhani disclosed that the year was satisfactory which earned the association recognition regionally and internationally.
 "We had an excellent year in 2018 both on the international and local circuits. We saw great development as we were outstanding both regionally and internationally and was even showcased on the Pan American website."
 When asked about who may be the most outstanding athlete for 2018, Ramdhani, in his capacity as Coach of the National team, identified undisputed national Badminton Queen Priyanna Ramdhani who collected five international goal medals this year.
 "She dominated the Caribbean Badminton Championships (Suriname) in all three tournaments. She ended as the triple champion –three Gold – in the under-17 Regional tournament… [She also won] two Gold in the Under-19 International, two silver and 1-Bronze in the open senior international championship.  "She also was the Captain that put Guyana in the 32 spot in the world at the world juniors team tournament in Canada," Ramdhani said.
 Ramdhani was elected to serve as the second vice – president of the Central America and Caribbean Badminton Confederation (CONCECABA) in August until 2022.
He is keen on transferring this year's momentum into 2019 and will focus on securing an Olympic spot in 20202.
 "Narayan Ramdhani is going for this [Olympic Spot] and will have to participate in five major tournaments to gain the necessary points to qualify," Ramdhani explained.
Around the Web