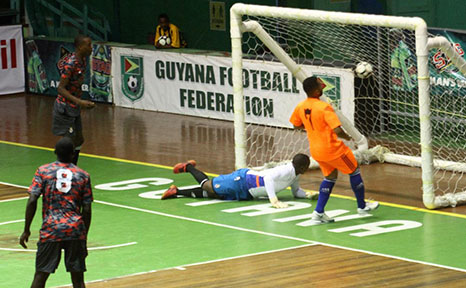 Team Guyana, Roraima Galacticos, Georgetown All-Stars and Caledonia AIA maintained their respective undefeated records, when the ExxonMobil International Futsal Festival continued on Friday at the Cliff Anderson Sports Hall, Homestretch Avenue.
Team Guyana downed West Demerara All-Stars 5-2. Sheldon Shepherd, Andrew Murray Jr, Delroy Deen, Solomon Austin and Eusi Phillips scored in the fifth, 14th, 29th, 31st and 37th minute each.
For the losing team, Dion Terrence and Trayon Bobb scored in the 18th and 24th minute respectively. Similarly, Roraima Galacticos downed East Coast All-Stars 6-3.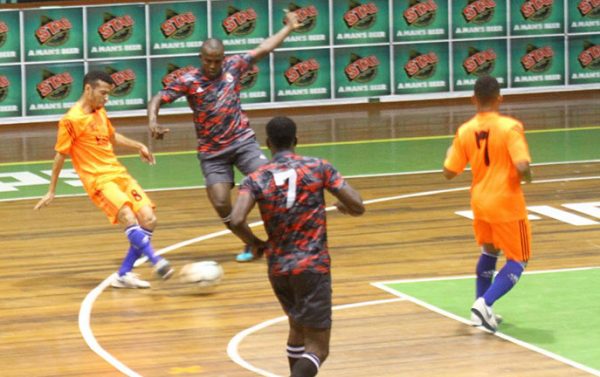 Romailson DeJesus tallied a hat-trick in the sixth, 25th and 31st minute. He was supported by Raphael Lopes, Lucas Martins and Maxi Carvalho in the third, 29thand 39th minute apiece.
On the other side, Azariel Davis, Kobe Durant and Stephen Dolphin scored in the ninth, 24th and 34th minute correspondingly. Meanwhile, Georgetown All-Stars crushed Linden All-Stars 7-0.
Ryan Hackett amassed a three goal blitz in the second, 17th and 22nd minute, whilst Adrian Aaron, Hubert Pedro, Kelvin Moore and Stephon McLean scored in the 12th, 30th, 31st and 40th minute each.
Likewise, Caledonia AIA of Trinidad and Tobago mauled ZV All-Stars of Suriname 5-0. Kareem Perry led the rout with a hat-trick in the 13th, 14th and 35th minute.
Contributing goals in the 18th and 33rd minute each were Jomel Williams and Rondell Elexie. The tournament concludes today with the semi-final and final.
Complete Results
Game-1
Roraima Galacticos-6 vs East
Coast All-Stars-3
Roraima Scorers
Romailson DeJesus-6th, 25th and 31st
Raphael Lopes-3rd
Lucas Martins-29th
Maxi Carvalho-39th 
East Coast Scorers
Azariel Davis-9th
Kobe Durant-24th
Stephen Dolphin-34th
Game-2
ZV All-Stars-0 vs Caledonia AIA-5
Kareem Perry-13th, 14th and 35th
Jomel Williams-18th
Rondell Elexie-33rd
Game-3
West Demerara All-Stars-2 vs
Team Guyana-5
Team Guyana Scorers
Sheldon Shepherd-5th
Andrew Murray Jr-14th
Delroy Deen-29th
Solomon Austin-31st
Eusi Phillips-37th
West Demerara Scorers
Dion Terrence-18th
Trayon Bobb-24th
Game-4
Linden All-Stars-0 vs
Georgetown All-Stars-7
Ryan Hackett-2nd, 17th and 22nd
Adrian Aaron-12th
Hubert Pedro-30th
Kelvin Moore-31st
Stephon McLean-40th
Around the Web