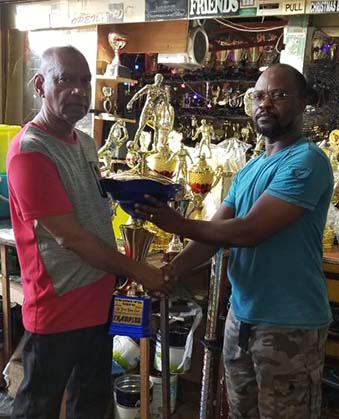 The Trophy Stall of Bourda Market has thrown its support behind the Upper Demerara Football Association (UDFA) GT Beer year-end football tournament which concludes Tuesday.
The sixth annual tournament commenced December 9 with matches at the Mackenzie Sports Club ground.
Some 10 teams are participating in the tournament which is down to the finals billed for Tuesday at the said venue
starting at 7. 30 pm.
Trophy Stall, through its proprietor, Ramesh Sunich has donated the first place trophy.
The third place play-off game which will be the supporting game of the evening will see Winners Connections against Botofago for $400,000.00 while the fourth place finisher will receive $200,000.
The most anticipated game of the evening, however, will see league champions Eagles FC facing the league's runners up Net Rockers for the top prize of $1,200,000 while the losing finalists will receive $600,000.00.
Around the Web