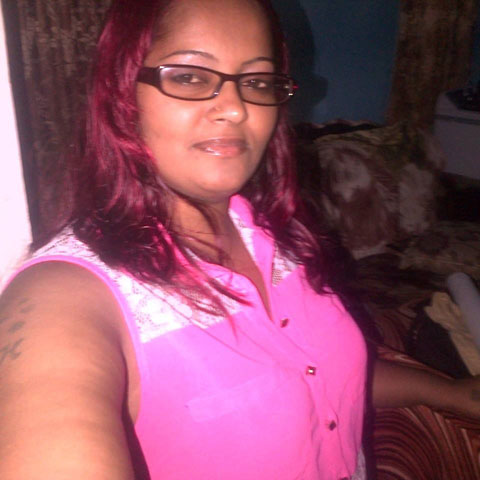 Nine years ago, Kamala's life was thrown into disarray when her husband died leaving her with three daughters, no job and no fixed place of abode. In fact, when he died, Kamala and her children left the place they called home in a taxi with only their clothes in suitcases.
Fast forward and Kamala now has five children, one just ten months old. Her living standards have not greatly improved but being a fighter, she has an optimistic outlook on life with her biggest dream being to provide a comfortable life for her children aged 14, 13, 11 and 7 years old, and 10 months old.
She has been working for the past nine years hoping that things will turn around. Today, she owns a piece of land on which she has built a one-bedroom house and right next to the house she rears pigs, chicken and ducks.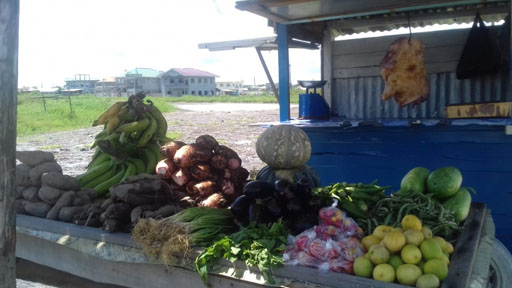 Her Uitvlugt, West Coast Demerara, home is hardly ideal, but it belongs her and for that she is proud. She slaughters the animals and sells the meat on a small stall she has close to her home, sometimes along with vegetables and she hopes that one day she would have enough money to "invest in the business and really turn it over."
At birth she was only given the name Kamala and she jokingly told the Sunday Stabroek that "maybe it was a good thing." When she married she took her husband's last name but with him now being deceased she no longer uses the name. Her memory of the marriage is bittersweet because even though she loved him she recalls that their union was met with resistance. Not placing blame on either her family or his, she reluctantly revealed that they experienced racism because she is of Indian descent and her husband was of African descent.
She admits that she has made mistakes in her life, some that may have had dire consequences but continues to work every day to ensure that her children do not continue to suffer.
"Sometimes I does say like I do something wrong and like I paying for it but I don't want my children to pay for it too, I just want a better life for them," she said.
She shared that shortly after they were married she and her husband had moved to Suriname, but because of financial problems and the fact that her second child had a problem with her eye, she returned to Guyana with the children.
The couple separated for a while, but she later returned to Suriname and resumed the union.
In October 2009, the family returned to Guyana to live. By this time, they had three daughters.  But it was just 11 days after they returned, on October 21, 2009, her husband died and according to the death certificate he died of respiratory distress.
The mother of five recalled that her husband had returned home from drinking with friends and he was crying for intense pain.
"I was a little angry with him because in Suriname we use to go to church, he use to preach and I was a Sunday school teacher but as soon as we come back is like he turn away from the church. So, I was upset with him and then he called out to me and said like he break he neck and he would die. I call his mother, and his brother come and take him to the hospital. A few days later he died," she stated.
When he was taken to the hospital, Kamala said, she did not even have a bus fare to travel to the hospital. "Is only after I search a pants he was wearing that I find $200 and I went and from there I went by my mother.
"And that was it life like we know it was no more and I had to start over all by myself with three children and no job," she told this newspaper.
They were married on September 16, 2003 just about year after they met in Bourda Market where their mothers had stalls next to each other.
"When he died I just left everything to God. He knows what is best. I knew I had to start over…"
'Real hard'
But as a single parent (she is no longer with the father of her two youngest children), Kamala said she has had some difficulties and continues to face them.
"It has been real hard. Sometimes I don't really want to go down the road because of how we struggling. And sometimes I would get help but then it is the low talk… but what can I do?" she said in a resigned way.
Her mother assisted her with the purchase of her house lot and her mother is also raising her third daughter. "To be honest I can't take care of all of them. I am trying, but it hard…," she said.
It was the money from her livestock business, which she started as a joint venture with a second party after she had worked in a store and sold at stall in Bourda Market, that Kamala used to build the one-bedroom house.
"It is real uncomfortable because it is five a we in the house, one bed and me and the baby does sleep on it and when it rain because the windows not in properly the house get water sometimes but I does try…"
 Her business barely provides enough for her to eat and send the children to school and not even that at times, but she is not giving up on it. While it might be easier to get a job that gives her a monthly salary Kamala said she has to think about the well-being of her children.
"I don't really have any neighbours and this place is bushy, full of bush. The other day I had to cut it myself to make sure I could see to the road so I can't go and leave my children. Who would look after them?" she asked. This is one of the main reasons she is still fighting with her business even though it is proving to be a daily struggle.
And apart from the financial aspect Kamala also shared that as a single parent she at times finds it difficult to discipline her children, especially the older ones.
It was in desperation that she reached out to the teacher of her second daughter, since, according to her, she was "acting up."
That teacher is Uitvlugt Secondary School staff and winner of Britain's Queen Elizabeth II Young Leaders Award Marva Langevine.
"I just call she one day. I get she number and I call she to complain about my daughter and since then she always look out for me. She would even help with the children school clothes. Sometimes if I don't get money she would brace me. Look let me tell she is like a angel to me right now," she said.
She shared that Langevine always contacts her to find out about their well-being.
The house does not have a bathroom or toilet and Langevine is in the process of having a toilet built for the family and Kamala is very grateful.
"Right now, is just a big blue barrel we have in the yard and is behind that we does bathe," she said.
"I does hustle hard, I does kill my pigs, ducks and fowl to sell. I can't sit down and don't do it. Sometimes I does buy lil beef to also sell."
She says she does not intend to have any more children and vows to work as hard as she can to ensure her children are educated. The three older girls are in secondary school, and Kamala said her only wish is that none of them has to struggle as she has and continues to.
"I does tell them bear up, God is going to show us a way. It is nothing easy, but we are still alive," she added.
And she had a message for other single mothers out there who maybe finding it hard: "To women out there don't give up. That is me motto. Regardless of how tough the situation is, don't give up. God does make a way when there seems to be no way."
Kamala says she welcomes any for assistance that can be given to the family to help to improve their living standard.
Around the Web