It is bacchanal season.  It is the official season of carnival in Trinidad (and in Rio, Brazil), and the unofficial season of Mashramani in Guyana. This represents a coincidence of timing since there is no real connection between the two, except the accidental proximity of their dates.  Trinidad Carnival will be February 12 and 13 in 2018 because of the ancient calendar of events on which it is based, while Mashramani is February 23 each year because of the date fixed by the government for Republic Day.
The important differences between the two include the fact that while other national festivals like Crop-Over in Barbados are very well settled, consistent, defined and based on deep cultural traditions, Mashramani is not.
Trinidad's carnival season, now in progress, is part of official practice and tradition – the season runs from Christmas until Lent (Christian events) according to the calendar that determines when it takes place each year (the dates change annually according to the calendar). Carnival is a calendar festival. Mashramani 2018 was launched in November 2017 and therefore several events were put in train and are now in preparation, but there is no comparable official season or customs determined by historical tradition or by the calendar. It is assumed that February 23 was set (in 1970) because of its proximity to the 1763 Berbice Rebellion, which gives some historical significance to the date, but even that is not certain, nor is it officially documented. Guyana's festival is not therefore as culturally or traditionally defined as carnival or Crop-Over. Nor is it as permanently structured.
There are, however, other important reasons for the differences. These are mainly that, despite 48 years of development, Mashramani remains relatively unstable. It is subject to annual and unexpected, one might even say unplanned, changes that can be imposed in any year. There is no certainty that all will remain permanent or fixed from year to year. A problem with Mashramani is that festivals of this kind thrive on popular and cultural traditions. It takes many years for such traditions to evolve and Guyana's festival is just not being allowed or assisted to settle down. The government does not seem inclined to entertain such cultural dynamics or does not recognise their importance. Unplanned, uncalculated decisions, which affect Mashramani in many ways, not least of which is the effect they have on developing the festival as a strong tourism product, are constantly being made.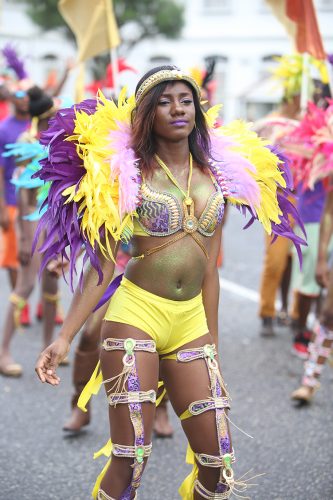 Carnival has had roughly 230 years of development; Crop-Over's origins, too, go back more than 200 years before it was revised and fixed in its present form in the 1970s. Trinidad's carnival has a history of struggle against colonialism, but both carnival and Crop-Over have remained stable and consistent without too many governmental changes and disruptions of practices and events.  This makes Mashramani by far the youngest and frailest festival. Crop-Over has become a major and rich tourist attraction since its redesign in the 1970s. Mashramani has not achieved anywhere near that in the same number of years.
The easy shifts and changes, and many inconsistencies make it hard to build traditions; 40 years is not a very long time in terms of evolution, and Mashramani is less than well defined. During the period of evolution changes do occur, but these follow natural processes such as cultural change and the forces of the popular culture. The imposition of too many changes by decree from the minister's office or departmental boardroom undercut these. The negative effects are economic, in artistic content, a decline in popular fervour, in public interest and support.
The road march route is a good case study. This was altered in 2016 from Church Street, Vlissengen Road, Thomas Lands, National Park to Avenue of the Republic, Brickdam, D'Urban Park. It is a much shorter route with much less space for the crowds of onlookers and other customary activities. A route that had become a tradition over decades was drastically reduced and disrupted.
Economic activity was heavily curtailed since there was limited space for stalls along the route and the usual opportunities for vending on Mashramani Day brutally devastated. This took a toll on the earnings of vendors who previously had longer, more spacious avenues for trade. Not only was there much less space available on the day, but a cruel reduction in crowds and numbers of people out on the road in 2017.
With the new route, enormous spaces that were brought into service along Vlissengen Road, along vast stretches on the periphery of Camp Ayanganna, the National Park, around the former Celina's and Thomas Lands that used to be densely populated by revelers and picnicking families were no longer in use. To say fewer people were out on Republic Day would be a gross understatement.
D'Urban Park is huge – with immensely more space than the National Park for persons to sit and watch the floats and bands as they come in and the stage area is much larger. But if you expect the multitudes of people to sit in the stands at the end of a road march you are turning a carnivalesque event like Mashramani into a spectator show, which it is not, or has not been.  Bear in mind, the grandstand area in the Savannah at the end of the road march in Trinidad is smaller than the stands and the tarmac in the National Park, yet carnival has never needed more space for spectators to be seated. And carnival is a much larger and grander spectacle than Mashramani. This is because both festivals are much more participatory than performance in nature and this does not translate to a seated audience.
Another useful illustration is the Soca Monarch Competition. This was dropped from the festival programme because of the withdrawal of the private sponsor and went missing for lack of a replacement. The Chutney-Soca Monarch Competition in Trinidad was under threat for the same reason, but the government rescued it and put up money to keep it going.  The same should have been done in Guyana.
Mashramani's Soca Monarch Competi-tion is now back on the agenda, but it should never have been allowed to crash in the first place. Private sector sponsors should never determine whether a major Mashramani event takes place. They do not have the same responsibility as a government does, and it is government's responsibility to ensure the survival and growth of the festival. Building a tradition is undermined if we are not sure from year to year whether one or the other of the major events will take place.
Already it is noted that most of the top, most prominent soca artistes in Guyana: Kwasi 'Ace' Edmonson, Michelle 'Big Red' King, Jumo Primo and Adrian Dutchin are missing from the line-up in 2018. This competition has shown that it can be a viable drawing card for popular crowds with economic possibilities. Rather than replace it with the large shows called 'Jourvay' (J'ouvert) with foreign artistes, it can be turned into something meaningful. Have the foreign artistes as guest performers but turn the J'ouvert into the soca show. Rather than have borrowed artistes performing on a show with a name borrowed from a foreign country (as J'ouvert is from Trinidad carnival), strengthen the native soca competition and the native artistes.
This may also contribute to the much-needed improvement and strengthening of Guyanese soca.  More songs of a better quality can be generated and might just, in time, fill a void. Mashramani is still driven by foreign music because there is not enough local music of quality to drive it. The Road March Competition in Mashramani is meaningless, if not ridiculous at the moment, because of the relative obscurity of the winning song and the fact that the most popular, most played songs on the road Mashramani Day are foreign in origin. The last truly Guyanese Road March was Rajendra Ramkellawan's "Dem A Watch Me". To find another real local title holder you might just have to go back decades to "Not A Blade of Grass" or some other Dave Martins hit.
Apart from boosting and legitimising the local soca competition, attention needs to be paid to rescuing the floundering Calypso Monarch Competition and preventing its extinction. There is also the Chutney Monarch Competition, which is always obscurely relegated to community parks in Uitvlugt or far away in Bath Settlement. Three pillars of Mashramani should be the Calypso, Soca and Chutney competitions, each with its own grand finale at a prominent venue in Georgetown.
Around the Web