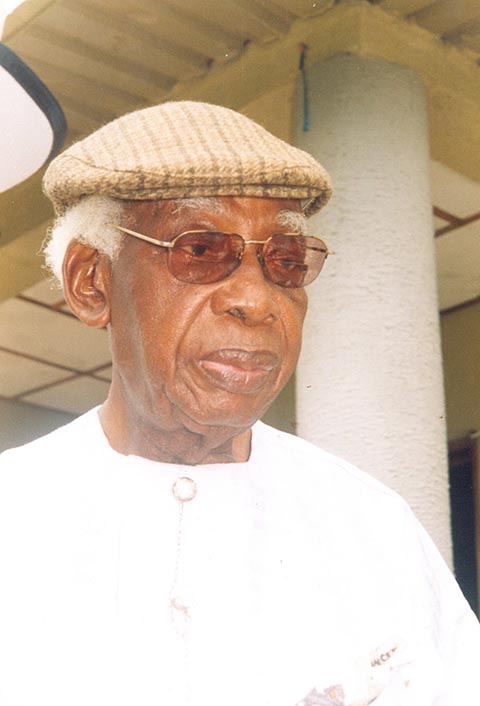 The Call of the River Nun

I hear your call!
I hear it far away;
I hear it break the circle of these crouching hills.
I want to view your face again and feel your cold embrace; or at your brim to set myself and inhale your breath;
or like the trees,
to watch my mirrored self unfold and span my days with song from the lips of dawn.
I hear your lapping call!
I hear it coming through;
invoking the ghost of a child
listening, where river birds hail your silver-surfaced flow.
My river's calling too!
Its ceaseless flow impels
my found'ring canoe down
its inevitable course.
And each dying year
brings near the sea-bird call,
the final call that
stills the crested waves
and breaks in two the curtain
of silence of my upturned canoe.
O incomprehensible God!
Shall my pilot be
my inborn stars to that
final call to Thee.
O my river's complex course?
By Gabriel Okara 
This is the poem that started modern African poetry and African literature in English. It was the first published poem by Nigerian poet, novelist and playwright Gabriel Imomotimi Gbaingbain Okara (b. 1921). It was written in 1950, but first published in 1953 and made Okara the virtual father of modern African literature in English.
A leading authority on African poetry and on the work of Okara, Marie Osbey, explained, "It is with publication of Gabriel Okara's first poem that African Literature in English and modern African poetry in this language can be said truly to have begun." There was a very important conference held in January 2017 at the University of Port Harcourt in the Rivers State, Nigeria, to celebrate this literature, to highlight the work of Okara and to honour him for his central role in its development.
At that event, it was argued that this 96-year-old father of African literature had not been properly acknowledged for his primary and important place. Other writers who were prominent in this literature's early development have been accorded greater acclaim and attracted much more critical attention than Okara. Some of them are Wole Soyinka, J P (John Pepper) Clark, and Chinua Achebe who were all significant in the rise of African literature and have been foremost in this field. It is argued that Okara, who never went to university, has never been admitted into the same hallowed halls of academia as the likes of Clark, Soyinka and Achebe. More attention has been paid to them and there have been more critical accounts of their work than of Okara's because of that.
Critics have also hesitated because of some of the peculiar forms that they have to confront in the work of Okara who has integrated the language of the Ijaw and cultural forms. In particular, his major novel, The Voice (1964), has a narrative construct and language that would cause critics to hesitate.
The other reason advanced for the undeserved under-acknowledgement of Okara's stature and status is the volume of his work. He was not nearly as prolific as the others, with a relatively smaller number of published works. He has worked in three disciplines – poetry, which is his main area, fiction and drama – but did not produce large numbers of published work, despite the prominence and importance of much of what he did publish. While he had major achievements in 1953, his poetry was later published in the prestigious magazine Black Orpheus, and his poems translated into several languages by 1960, it took a very long time for his first collection to appear, thus limiting his published output, and subsequently, his recognition.
Yet, his collection, The Fisherman's Invocation (1978) won the 1979 Commonwealth Poetry Prize. He also won the NLNG Prize, Nigeria's biggest literary award, in 2005 for The Dreamer, His Vision. He was known as the first modernist African poet and his novel The Voice was outstanding as experimental and innovative in 1964, a still very early period in the rise of African literature in the western world. Okara has said he was writing an English which contained the Ijaw /Ijo /Ibo syntax, that his thought processes were in his native language which he then wrote in English. He did not think in English and then write, and that shaped the language of the novel. The Voice is therefore steeped in the indigenous traditions of the Ibo (Ijaw/ Ijo) of Nigeria in form and style.
This is not far removed from the work of Amos Tutuola, another early innovator in the founding of Nigerian literature in English. Tutuola began writing in this way in 1946 and produced the famous novel The Palm Wine Drinkard. This is not only steeped in Yoruba mythology, folklore and traditions, but uses a similar language governed by Yoruba syntax and thought structures.  That novel advanced and established African literature in English. So did The Voice many years later.
In 1953, Okara gained recognition when he won the Poetry Prize at the Nigerian Festival of Arts for the poem "The Call of the River Nun". It was the rise of modernist poetry in Africa as well as literature in English. It is a significant work for the poet and connects with the poetry that was to follow as the literature advanced.
The River Nun is a branch of the River Niger in the amazing Niger Delta into which the river flows in the Rivers State of south-east Nigeria. According to Okara it is unpolluted, unlike other branches in the delta where there is oil exploration. He was born in the delta region and grew up close to the rivers. The Nun held special significance for him and he felt his life was attached to it, as is indicated in the poem.  He worships it with almost god-like devotion.
It is modernist verse with what appears to be deep spiritual attachment among the indigenous landscape, the native country and the poet. Okara said, "I grew up . . . on the river banks where water was everything to us. We used it . . . travelling from place to place.  All that experience of rivers . . . inspired me into writing." And it was that writing which became more spiritually involved in the traditions of the land that inspired the rise of a poetry that expressed the African communities. It was that writing that led the way for the many others who contributed to the development of modern African literature.
Interestingly, one disciple of Okara is himself a writer in Nigeria and like Okara was outside of the university men and his highly experimental work received little attention. He is Jamaican-born Lindsay Barrett, famous for the intriguingly poetic experimental novel Song for Mumu (1953).
Around the Web