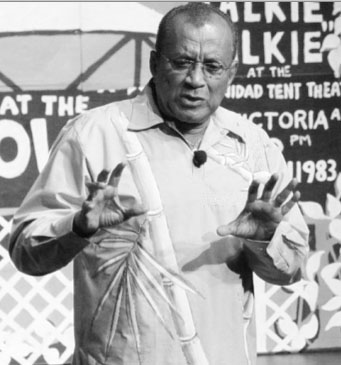 Acclaimed story-teller and poet Paul Keens-Douglas recently returned to Guyana for a comedy show after several years. As had previously been the case, GEMS Theatre Productions was responsible for his appearance and the show, 'Two of Kind' staged at the Marriott Hotel in Georgetown on June 17, was produced by Gem Madhoo-Nascimento.
This was a memorable return. The performance was top class; the house was full. It was reminiscent of the fact that Keens-Douglas has filled the vast National Cultural Centre (NCC) in the past. Last month's show brought out a large uptown audience, most of whom do not go to the NCC. This is worth mentioning for three reasons – it is relevant to the continuing study of theatre audiences in Guyana and what is emerging about the demographics of the local audience on opposite sides of Georgetown; the fact that throughout his long career, Keens-Douglas has had the capacity to attract an enthusiastic popular audience in Guyana; as well as the dynamic nature and changing emphases in his form, style and content over those decades.
Those are also significant factors in theatre in the Caribbean. They speak to the place of comedy; the (re)rise and resilience of stand-up comedy; the changes that have been taking place; and the contribution of Keens-Douglas to form and content. It is the resurgence of stand-up comedy because this was part of an old tradition that waned with cultural change only to resurface as a popular attraction in the past decade. An interesting factor is the significant irony that 'Two of Kind' awoke the attention of one type of audience at the Marriott, and at the Theatre Guild Playhouse, while the other type of popular audience was keeping comedy alive at the NCC. As an aside, there is a practice known in Economics as price discrimination, and this becomes relevant when one draws attention to the role of the pricing of tickets at both ends of the city. 
'Two of Kind' was not a Keens-Douglas solo. This time there were supporting acts to make a fuller show and entertain a bit more variety, although it must be maintained that the famous "Tim Tim" story-teller no longer needs to prove his capacity to sustain full-length solo shows. Most likely, the title of the production was inspired by the fact that the main supporting act was Richardo Keens-Douglas, another not-quite-so-similar comedian, story-teller and dramatist who happens not only to be in the same field, but also to be Paul's brother. 
The other supporting acts were Farida Chapman and Avion Crooks both of Trinidad and Tobago, and Leza Singh of Guyana. This was fairly valued exposure for the Guyanese audience to become acquainted with other workers in the same vineyard, although Chapman was making her second performance in Guyana. The inclusion of Singh on the programme was not only an excellent idea for industrial and production reasons, but a refreshing spark in the quality of the entertainment.
Paul Keens-Douglas, of course, was the main event. He brought a whole Caribbean tradition to the stage. He has been a part of an extremely important movement in West Indian theatre that made seismic waves in the 1970s and progressed over the ensuing decades, keeping stride with the changes and variations to remain relevant along the way. He has been part of popular entertainment as well as of significant form in Caribbean theatre. He has moved from performer and mover of folk traditions to stand-up comedian to an amalgamation of both. He has created style as well as content in the theatre with his popularisation and immortalisation of a number of dramatic folk characters and popular fictional personalities all across the Caricom region. He was part of moving Caribbean performance and literature from the page and the stage to the succeeding technologies in sound recordings. His work has been reproduced in print as well as in the succeeding forms of cassette recordings through albums, videos, CDs and DVDs. 
According to GEM Theatre Productions' programme notes, Paul Keens-Douglas was appointed Trinidad and Tobago's Poet Laureate for 2017 – 2019, and this is very significant. It suggests that he is recognized as a poet, that his work has been acknowledged as belonging to mainstream literature – that his work which started out in the oral tradition and the performance pieces that he developed and published in the 1980s are credited as poems – as Trinidadian literature.
This also tells the story of the developments in West Indian literature over the same period and the closing of ties between literature and performance over that time. Along with those were developments on the stage and what was happening with folk traditions, theatre and literature.  Many of them manifested themselves in Carifesta 2 in Jamaica in 1976.
Leading in all of this was the rise of 'Dem Two' – the performance team of Ken Corsbie and Marc Matthews of Guyana. They advanced story-telling, folk material and comedy on stage in a form that swept the Carib-bean. Paul Keens-Douglas was part of the ensuing whirlwind that was also carrying other new forms such as Dub Poetry and forms of comedy. He actually began as a graduate student with the UWI Drama Society at Mona in Jamaica before launching his solo career, starting out in folk but soon transforming into stand-up comedy in a seamless wave of development. 
Last month's performance showed what that has led to.  It showed a very relaxed Paul Keens-Douglas, versatile, flexible, a practiced teller of stories and a hilarious stand-up comedian. He was in command of his routine which he performed at a controlled pace. The various folk tales, the fictional comic characters and the stories he has generated were well managed into a continuous stand-up comedy routine. Audience members who might have followed him for years would have
recognised familiar items but would have witnessed them told in an almost unrecognisable way as if they were part of a new story. They were interspersed with a considerable volume of new material with several jokes arising out of an invaluable vein of social commentary. Paul Keens-Douglas has the high skill of satire which he dispensed imperiously during his performance in 'Two of Kind'.
His brother Richardo Keens-Douglas is less known, not so highly acclaimed. However, once on stage, he can be instantly recognised as an excellent performer. He is certainly 'of a kind' with a similar talent for humour, drama and stage performance. He has an impressive biography with a long career in Grenada and the Caribbean as well as in Canada. He has been in drama as playwright and actor, in television, radio, has written for children and published anthologies.
Richardo's performance was fast-paced and he maintained very good rhythm, never mind not being always in total command of his material. He relied on a cue script strategically placed on the stage. He fluffed a punch-line or two, due to imperfect memory or delivery. Truly it was obvious perhaps twice when this happened because one would have heard some of his jokes before. He drew from common sources, perhaps including the internet. 
Richardo was certainly not flawless, but he was remarkable and outstandingly effective. He was a strong story-teller and a consistently entertaining stand-up comedian. He was clear, variable, unpredictable and hilarious. One did not tire of his delivery or of his content. He was able to deliver some amount of satirical lampoon along with his varied selection of jokes and would surely be a drawing card if he returns to Guyana. Without a doubt he enhances the Keens-Douglas name and reputation.
Leza Singh was a gem as one of the acts in the show. Clearly, she was cast in the role of an MC, but she understood that role in a comedy show very well. The MC in the tent is an equal performer and so was Singh in this production. Interestingly, she did not appear in her usual stage persona as 'Radika from Parika Backdam', demonstrating that she is able to perform outside of that character role, further proving her strength and versatility. As a comedienne and stage personality she has grown to be a class act standing out in any company.
In some countries there is a performers' union which insists that in every show with foreign artists there must be the appearance of some local talent. Guyana does not have that, but GEMS Productions virtually practiced it with the appearance of Singh and Nurriyyih Gerrard. Singh unassumingly asserted her presence in the proceedings with running commentary, humour, take-off and lampoon which were fresh, spontaneous and original.
One of the popular comic characters created by Paul Keens-Douglas is Tante Merle. Avion Crooks, who is a teacher and an educational broadcasting specialist, has become an incarnation of this matriarch. She performs in the Talk Tent in Trinidad and appeared for the first time in Guyana as the Tante Merle stage persona, bringing an extra bit of interest to the thematic unity of the production.
'Two of Kind' opened with a routine performed by Farida Chapman, a poet, actress and retired teacher. She is a member of the performing group '10 Sisters' in Trinidad and an established member of the cast in Talk Tent. She has made performance pieces out of the theme of ageing which have become favourite items with her audiences and which delighted those in this show as she completed a second visit to Guyana.
Around the Web