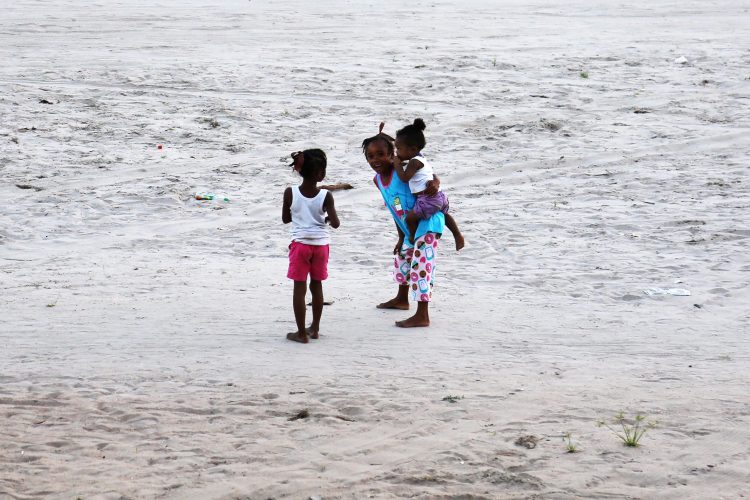 Buck Hill, in Wismar, Linden, is a haven for its more than 100 residents—including a large percentage of children.
When I arrived at Buck Hill, children were making their way to afternoon lessons; others were on their way home from school. In a yard where the pink Hibiscus flowers stretched over the fence, a woman was bent over some coconuts, sorting them. On one side, five-year coconuts were kept together in a pile, while the three-year ones were in another. The woman did not give her name but pointed out a steep, bumpy path roughened by rocks and giant tree roots through which three children navigated and clambered their way through to the village at the bottom of the hill. The track, she said, was once one of the busiest roads in Wismar with trucks and cars driving along it all day but then it began to erode and was neglected, resulting in the way it looks today. She wants it fixed so that children can properly access it on their way to or from school.
Seventy-year-old Mortimer D'Agrella sat in his hammock checking his watch, timing his bread that was baking in a wood oven nearby. He hails from Drudge Creek, Pomeroon where he built boats with his father and brothers. But the life there, he said, was just about building boats and mostly farming which he deemed boring. Tired of such life and wanting adventure he left to work in the Cuyuni River as a miner, then some years later he settled in Buck Hill. That was 35 years ago.
D'Agrella added that he ….
To continue reading this article
Comments

Story and photos by Bebi Oosman Bengal Village located on the Corentyne in Berbice used to be home to hundreds of Guyanese, however, migration to foreign lands has seen the numbers greatly diminished.

Voorzigtigheid was what it was once called, today it's known as Jonestown, a sprawling village situated at Mahaica some 37.5 kilometres from the city tucked between Hand-en-Veldt and the vegetation leading to the Atlantic Ocean.

Story and photos Richmond Village on the Essequibo Coast is 40 minutes away from Anna Regina and approximately 37 kilometres from the Supenaam jetty.

Photo by Joanna dhanraj Rising Sun is a tiny, sleepy West Coast Berbice village, approximately 76 kilometres from Georgetown; there are less than a dozen families residing there.

Vilvoorden, Essequibo Coast is a small community of just more than 100 people, approximately nine kilometres from the Supenaam Jetty and between Middlesex and Fairfield.