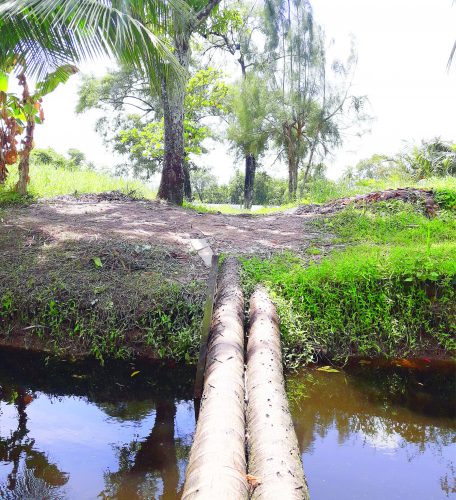 Bel-Air and Dublin are grants in the Pomeroon River, approximately nine miles from Charity on the Essequibo Coast and home to some 25 persons. These two grants fall on the same side as Charity but can only be accessed by boat.
A friend of mine who lived on one of these grants in the Pomeroon River some years ago, opted to be my guide for the part of the day. From him I learnt that there are some things you never say or do as they are considered silly and you might just turn out to be the laughing-stock of the day. For example: you never call the grants villages or communities or neighbourhoods; you do not wear life jackets; when your hands get sticky from having coconut water and jelly, you do not ask where you can wash them when there is an entire Pomeroon River and black water drains everywhere; you do not ask if women and children can drive a boat because just about everyone  can. Some of the things you always do: wave at someone when passing by in a boat and always remember your courtesies. I did and said them all: the ones I was supposed to do and the ones I was not supposed to.
On the way to the grants, we passed children sitting on landings, women working between huge piles of coconuts, families washing clothes and children taking baths. One young man was far out on his landing to get a network signal while making a phone call. Boats traverse the river, back and forth…..
To continue reading this article
Comments

El Dorado Village, West Coast Berbice (WCB) is situated 70 kilometres from Georgetown.

Belfield is a tiny village on the western side of Leguan with a small population of some 70 persons, predominantly Indian Guyanese.

Story and photos by Bebi Oosman Bengal Village located on the Corentyne in Berbice used to be home to hundreds of Guyanese, however, migration to foreign lands has seen the numbers greatly diminished.

Voorzigtigheid was what it was once called, today it's known as Jonestown, a sprawling village situated at Mahaica some 37.5 kilometres from the city tucked between Hand-en-Veldt and the vegetation leading to the Atlantic Ocean.

Story and photos Richmond Village on the Essequibo Coast is 40 minutes away from Anna Regina and approximately 37 kilometres from the Supenaam jetty.