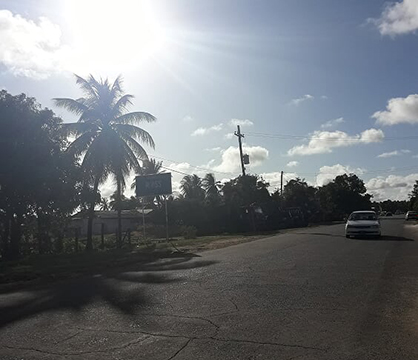 Eighty-one kilometres from the city sits the village of Ross between Brahan and Yeoville on the West Coast Berbice. Ross holds a special place in the hearts of those who grew up here.
Most of the residents are African Guyanese and although the village is said to have approximately 150 inhabitants, many of the houses along the road were locked up as the owners would have migrated. Animals along the road seemed to outnumber the people. Just a few children were seen climbing trees and playing in their yards.
Seventy-year-old Vibert Lewis was upstairs in his home watching wrestling on the television. He said he usually reads the World Beyond Georgetown was eager to talk about his village.
Ross, he said, has been in existence for a long time. Lewis was born in Ross and so were his father, his father's mother and other fore parents amounting to 12 generations of his family, he said.
The village, originally called Plantation Ross, was where the cotton plantations thrived; plantain suckers were said to be planted on a large scale as well. A Scottish man by the name of John Sutherland was one of the overseers. There used to be many Sutherlands, but they have reportedly migrated and during the time this reporter visited, neither of the two remaining Sutherlands were at home.
Most of the residents, Lewis said are related in one way or another. As a young boy growing up in the village, he attended Number Twenty-Eight Village Primary School. He and his siblings walked three miles to school every day. Every morning before they left for school, they would tend to the farm animals. By the time he was 12, Lewis said, he was working on the farm helping to plant, cassava, plantains and rice. When asked whether they sold the crops, Lewis said only the rice was sold to Burma Rice Board. His family was large—there were 10 siblings—and the ground provision was mainly for the family's cooking.
Lewis's sister sitting nearby noted that they also planted corn, which they helped to grate to make corn porridge that was often their breakfast every day.
Later when he was old enough he worked with the Livestock Development Company (LIDCO) in Mara, Berbice River. He worked there for eight years then left to work on his rice farm. During his time at LIDCO, he married a woman from neighbouring Yeoville. Though separated now, their union produced five children. After a while, he left rice farming to work in the gold mining industry where he stayed until seven years ago when he was forced to leave because of backaches which he still suffers from.
"What I like about Ross is the quietness and the people… the people are friendly and sharing. Everybody looks out for each other. The community is close-knitted and live as one and the cooperation here beats that of the other villages around," Lewis said.
Most of the people, he noted, thrive on rice farming, cash crops, cattle and poultry rearing. Some men work in the interior and few women work outside of the house.
Although the village is said to peaceful, persons are always on the lookout for thieves who reportedly come from other villages around to rob persons within the area. Another disadvantage is that the area floods; better drainage would help with this issue. Apart from drainage and irrigation, Lewis said he wished there were streetlights along the main road, the back streets were repaired and there was employment for the young people of the village.
Emmanuel (only name given) was born in the village. His mother, who hails from Brazil, gave birth to him here then went back to her country leaving him with his grandmother and aunt who raised him. He attended Lichfield Primary School then Bush Lot Secondary.
"I practically grew up in a workshop… a joiner shop around my uncle. He was a joiner. I was 12 when I began helping him out. Later I moved on to carpentry, then mason work. Now and then when there's no work, I would plant cash crops, not to sell, just for family use," Emmanuel said.
"Most people farm. Berbice work is fishing and gardening and stock-rearing. Whenever work come, you catch a job. The difference between Georgetown and Ross is that when you run out of something you can get it from your neighbour. They are always willing to help you. People give away excess fruits and vegetables here," he said.
Sadly, it was also said that many of the young men are involved in drugs and would sometimes get caught up in petty crimes, like breaking into homes when residents are out. 
Emmanuel said he believes a community centre would see the youths more involved in activities and the village would progress. Currently, the fence is being built around the ground. A walk to the ground later that day showed the ballfield in terrible condition. The ground is often used for various sports activities hosted by villagers within the community and without. Most of the activities are gymkhanas. Emmanuel declined to have his photograph taken.
Richard Krishnan spoke of a recent incident that almost cost him his life. He said he was still fearful and asked that his photograph not be taken.
In celebration of the Emancipation holiday recently, a soiree was held in the Fort Wellington Secondary School Compound. Krishnan was in attendance enjoying himself when he was attacked by two men who snatched his gold chain which weighed 14 pennyweights. Just seconds before the attack, he said, a noxious substance was sprayed in the air.
While being robbed, Krishnan said, he asked the robber how he could do something like that and tried to retrieve his chain but was stabbed three times, once each to his chest, back and face. He said he barely managed to prevent the knife from piercing his stomach. To notify persons as to what was happening, he said, he approached the DJ and asked him to announce it. However, he said, the DJ instead called for the police standing in front before continuing to play his music.
"When the police come I was trying to point out the men them, but the police keep saying that I was bleeding and I shouldn't worry about finding anybody since it was hard to find them in the crowd. They didn't even shut down the dance to look for anybody. You could imagine that although I bleeding, them say they going and get a car though it had so much car park right there but instead walk me to the Fort Wellington Hospital which was just about five minutes away. I went back to them to see what they were doing about the case and the officer there collected my number then send me home saying they would call me. Seven days later and they can't call yet," he added.
"The police need to be more attentive. They were there to prevent things like this from happening instead they not doing anything."
The village has a community policing group, but it is reportedly dormant, and he pleaded for it to become active again and for there to be more police patrols in the village.
Krishnan also called for the police to check for weapons before persons enter these events.
The 30-year-old man said he was born in Ross and has always worked for what he wanted in life. When he spoke with me, he had just returned from his farm.
A short distance away, groups of young men eagerly tried to finish up their football game as the sun began to set, while others looked on. They said they wanted a better ground and added that floodlights would allow for them to have night games.
Around the Web