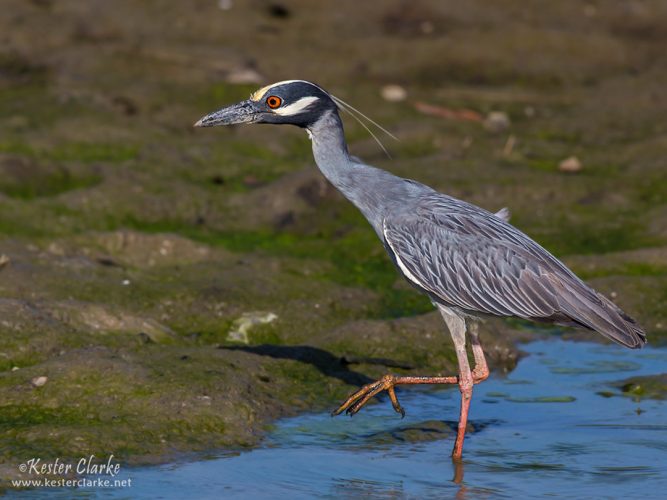 The Yellow-crowned Night Heron (Nyctanassa violacea)is found in the Americas.
The body and back are a smooth grey-blue, with a black scaled pattern on the wings. The long legs are yellow and turn coral, pink or red during courtship. The most characteristic part of the Yellow-crowned Night Heron is the head: black and glossy, with white cheeks and a pale yellow crown going from the bill, between the eyes and to the back of the head, giving the bird its common name. Such colours make the face appear striped in a horizontal black-white-black-white pattern. Long, thin, white feathers grow to the back of the crown during mating season. The bill, also black, is thick and deeply set under the eyes which are dark orange or red.
The Yellow-crowned night heron feeds mostly on crustaceans.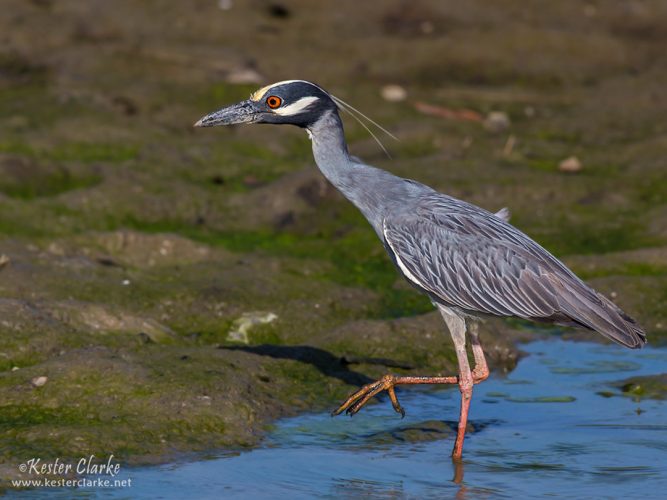 Comments

The Willet (Tringa semipalmata) breeds in North America and the West Indies and winters in southern North America, Central America, the West Indies and South America.

The Whimbrel (Numenius phaeopus) is a migratory  species wintering on coasts in Africa, South America, south Asia  into  Australasia and southern North America.

The Tricolored Heron (Egretta tricolor) is found in the Gulf states of the United States and northern Mexico south through Central America and the Caribbean to central Brazil and Peru.

The Thrush-like Antpitta (Myrmothera campanisona) is found in the Amazon Basin from eastern Colombia to the Guianas, south through Amazonian Brazil, Ecuador, and Peru, to northern Bolivia.

The pale-vented pigeon (Patagioenas cayennensis) is found in the tropical Americas.