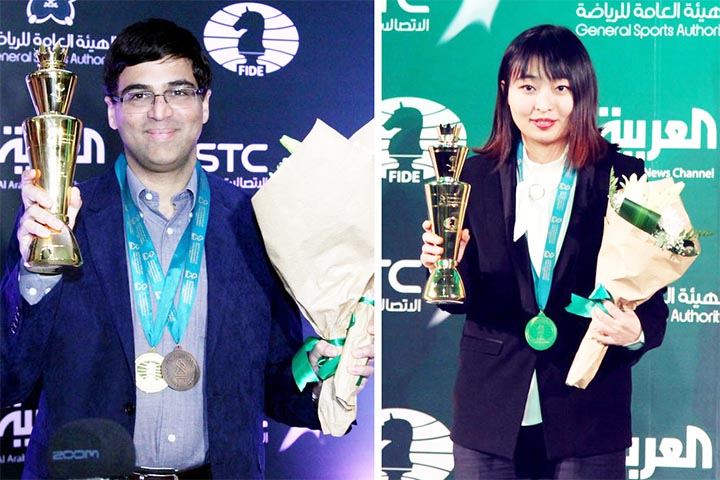 Chess grandmasters Viswanathan Anand and Ju Wenjun, and Magnus Carlsen and Nana Dzagnidze completed 2017 in fine style as they won the World Rapid Championships and the World Blitz Championships.
Anand and Wenjun won the Rapids while Carlsen and Dzagnidze took the top Blitz prizes in both the male and female sections of the Championships.
2017 was a splendid year for chess internationally. Anand continued to win world titles and Carlsen, as world classical chess champion, made his presence felt in all of the tournaments in which he participated.
In trying to determine which chess game was the best for 2017, Chess Base listed 10 of the very best and asked readers to pick one. Here is one which was listed in the line-up. Readers may wish to replay the game for their enjoyment.
White: Viswanathan Anand
Black: Fabiano Caruana
1.c4e52.Nc3Nf63.Nf3Nc64.g3d55.cxd5Nxd56.Bg2Bc57.O-OO-O8.d3Bb69. Bd2Bg410. Rc1Nxc311.Bxc3Re812.b4Qd613.Nd2Qh614.Nc4Qh515.Rc2Rad816.Nxb6cxb617.f3Be618.Qd2b519.f4Bg420.Bxc6bxc621.fxe5f622.exf6Rxe223.f7+Kf824.Bxg7+Kxg725.Qc3+Re526.Qd4Qg527.Rc5Rxd428.f8=Q+Kg629.Qf7+1-0.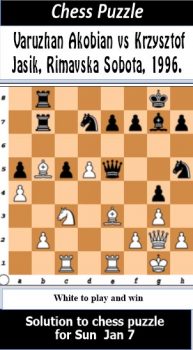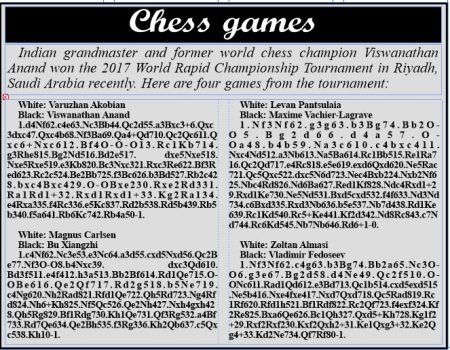 Comments

2017 was a great year for world chess. The column highlighted whatever was of importance in chess locally and internationally.

Guyana's chess for 2017 has both been invigorating and disappointing. On the positive side, the Berbice Chess Association was established, an overture was made to the Georgetown Prison, Guyana was represented at an important World Chess Federation (FIDE) overseas meeting, the Berbice Inter-Schools Chess Championship was held and Guyana won the inaugural Caribbean Chess Cup.

"Dear God," she prayed, "let me be something every minute of every hour of my life." – Betty Smith, A Tree Grows in Brooklyn Dennis Ivor Patterson, 73, died on Tuesday, December 12, 2017.

Garry Kasparov, a previous world chess champion, has documented his insights into his 1997 match with the IBM computer Deep Blue.

The world's number three chess player, American grandmaster Fabiano Caruana, unfastened the deadlock of draws which had been plaguing the London Chess Classic for an interminable three rounds.