The policy implemented by the Guyana Chess Federation (GCF) of hosting a preliminary qualifying tournament to determine the participants for the 2018 National Chess Championship is admirable. With such an inspiring arrangement, the end is sure to justify the means. Every other thing being equal, the GCF would have identified its most prolific chess player in the national champion. Whoever wins the national chess championship should be proud of the accomplishment.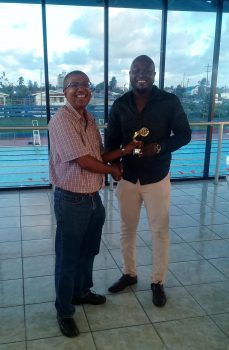 The qualifiers proved to be eye-openers for players and onlookers alike. Anthony Drayton won and that was not surprising. We witnessed some innovative talent in juxtaposition to the old guard we had grown accustomed to. Saeed Ali and Glenford Corlette were two of those talents; they both qualified. Kriskal Persaud and member of the 2016 Chess Olympiad team Roberto Neto didn't. Persaud travelled from Rose Hall each playing day to participate. One of the highlights of the tournament was Taffin Khan's unexpected loss to Ronuel Greenidge. How-ever, their accumulated points for qualification were unassailable, and therefore both made the cut. Maria Varona-Thomas and Loris Nathoo also qualified. I viewed the latter part of the game Drayton vs Varona-Thomas and felt she enjoyed at least an equal position. But I cannot recall whether she was in serious time trouble which caused her to play more quickly than usual and lose the game. Nathoo lost two crucial games to Drayton and Khan but won against Neto and Corlette. Nathoo was not as sharp as he used to be and requires some practice before he enters the national championship tournament. The standard of the qualifier in my estimation was fair, following the lengthy layoff of participants. The column expects the national championship to be a bit more ambitious in terms of implementing theoretical knowledge within the games.
During the presentation of trophies to the qualifiers after the tournament at the National Aquatic Centre, President of the GCF James Bond expressed his satisfaction with the manner in which the tournament was conducted. He singled out Tournament Director Irshad Mohammed and Drayton for special mention. Bond chided a senior chess player for his belligerence in a recent and embarrassing public display. It was disrespectful and runs contrary to the nature of chess and to the type of persons chess players ought to be, he said. Bond mentioned China as a disciplined society, a country that he visited, and which impressed him.
Around the Web