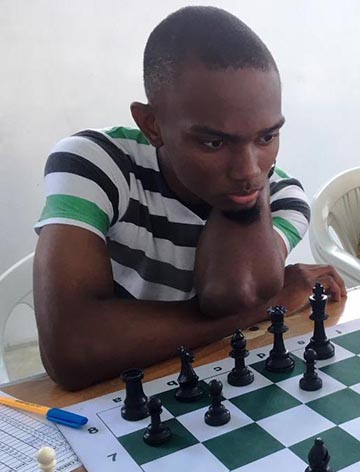 "Tactics is knowing what to do when there is something to do; strategy is knowing what to do when there is nothing to do." – Savielly Tartakower, chess grandmaster
Chess is a military game. To the uninitiated who never bothered to learn the game, and who question the usefulness of chess in other facets of life, please understand the benefits are plentiful. The person who learns chess seeks to further educate himself through improvement of his/her qualifications. By improving his/her qualifications, he/she opens the door for progressing further.
Chess players breathe in a healthy environment. There are three phases of the game of chess: the opening, the middle game and the ending. The three phases correspond to student days, a prime work life and retirement. The game complements every aspect of a person's existence. One chess writer tells us that one bad move nullifies 40 good ones; therefore, every move is important on the chessboard and in life. In every action we take, the similarities between chess and life are evident. 
Two significant chess tournaments begin on Saturday, March 10: one in Guyana and the other in Germany. The National Chess Championship will be contested in Georgetown, while the Candidates Chess Tournament will be played in Berlin.
The Georgetown tournament will identify a national chess champion. Eight players have been shortlisted for participation. The favourites, in this writer's estimation, are:
1.Wendell Meusa – current national champion.
2.Anthony Drayton – winner of the National Chess Qualifier and the 2017 Caribbean    Chess Cup champion.
3.Taffin Khan – Guyana's most successful participant at the 2016 Chess Olympiad.
Other players to watch are:
1.Ronuel Greenidge – theoretically sound and capable of creating an upset as he did during the National Qualifier, though he did not do well at the 2016 Chess Olympiad
2.Maria Varona-Thomas – expected to lead the Guyana women's chess team to the 2018 Chess Olympiad. A strong player, she is often in time trouble at crucial points of the game
3.Glenford Corlette – a dangerous player who possesses the capability of upsetting any of the favourites. He plays safely and is not known to take chances
4.Saeed Ali – a hopeful player who emerged from the junior ranks. His strength is uncertain, but he qualified for the National Championship
5.Loris Nathoo – reliable under pressure; experiences time trouble; has a way of beating back the clock; plays whenever he can spare the time; short of practice; relies on former knowledge of chess.
The Berlin tournament will witness the emergence of a new world championship contender. This writer believes Levon Aronian will excel at the Candidates Chess Tournament.
Around the Web