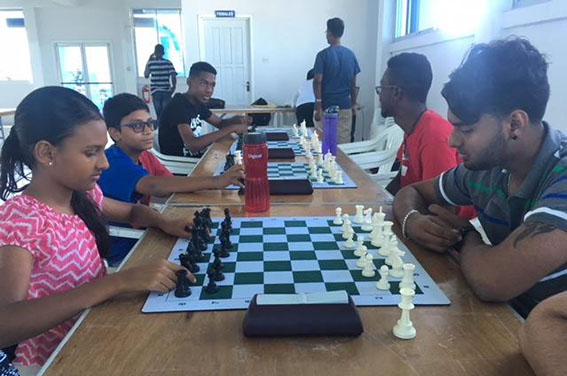 Who will win the 2018 National Senior Chess Championship? The question is uppermost in our minds. This column, while not answering the question, will try to interpret the occasion.
Chess aficionados have been refreshed by a new insight into the Guyana Chess Federation (GCF). Over time, much fine gold has been corroded as we regrettably parted company with most of our successful chess players. We lost them to the developed western nations. For years, scant attention was paid to chess. We stopped attending the Olympiads and ceased travelling to international chess tournaments. Guyana's name was removed from the list of nations which belonged to the World Chess Federation (FIDE). However, the GCF continued to host national chess tournaments and to teach the ancient game to children. I can recall Roy Sharma, Ewan Devonish and Irshad Mohammed serving selflessly as chess teachers. Following the visit of FIDE's Director for chess within the Caribbean Allan Herbert, Guyana rejoined FIDE.
We re-entered the international arena by competing in international chess tournaments soon after. During the dismal period of inactivity, Guyana lost precious time that could have been spent developing chess. We reckoned how productive we could have been in relation to the manufacturing of positive chess ratings. We cannot recoup the wasted time which we used unwisely, but we can look into the future with awakened eyes. Very clearly, the National Chess Championship has awakened us…..
To continue reading this article
Comments

The seven-round National Chess Championships continued yesterday and will conclude today at the National Resource Centre, Woolford Avenue.

"[Chess] makes man wiser and far-sighted." – Vladimir Putin, during the 2001 World Championship knockout in Moscow, as quoted in Chess Base.

There is some sort of expectation that the top finishers of the National Chess Championship would be guaranteed a place on the Guyana team for the spectacular biennial 2018 Chess Olympiad in September.

The policy implemented by the Guyana Chess Federation (GCF) of hosting a preliminary qualifying tournament to determine the participants for the 2018 National Chess Championship is admirable.

Countries and governments vary vastly in size and 'weight'… That does not mean that the biggest, meanest countries always get their way: their huge resources may not be easy to apply on the scale that counts.