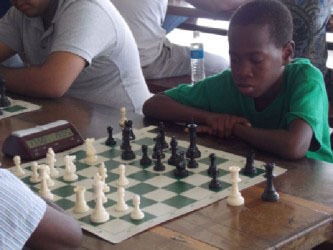 John London, a Berbician father of two teenage sons, Marley, 17, and Darwin, 16, in a letter published on April 11 in the Stabroek News, expressed some dissatisfaction with the manner in which the Junior Team was chosen to represent Guyana at the 7th Carifta Chess Tournament in Suriname.
London was not exaggerating in describing his sons' chess aptitude as prolific in accordance with local standards. He was correct. Very few local junior chess players can seize a game from Darwin, and opposing Marley is not a Sunday afternoon walk in the park.
I happen to understand their singular strengths as chess players. I played against both of them. Darwin has won a fair number of individual chess trophies in, and for, Berbice.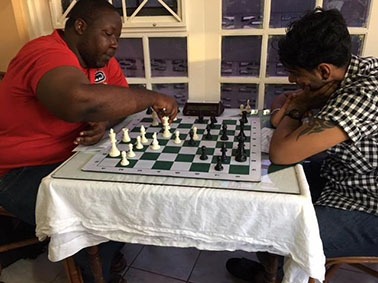 From the time the Guyana Chess Association was established in 1972 by Forbes Burnham, Berbice was credited with having competent chess players. Kriskal Persaud of Rose Hall Town eventually went on to win the junior and senior chess championships of Guyana.
I am not aware of the manner in which the Carifta Team was chosen. I do not sit on the executive board of the Guyana Chess Federation (GCF) which makes administrative decisions. Any number of factors may have caused the Londons' omission from the junior team. Central to such imbroglio may have been their non-participation in the National Chess Championship. Or perhaps the notification for the tournament did not offer enough time to group together the most brilliant minds and credible players. I do not believe surreptitious forces were at work in determining the team. Rather, I am concerned with the visibility of the Berbice chess players.
The Berbice Chess Association, to my knowledge, has not hosted a chess tournament for 2018. Its president Krishna Raghunandan may wish to get started in this direction shortly. If any assistance is required for the association to host a tournament, GCF President James Bond is a mere telephone call away. Bond responds to all queries.
The GCF needs all of the goodwill it can muster. The principal aim of local chess is to lift and popularize the game. Chess is not a traditional game; therefore, it will be a herculean task to increase our numbers, but we have to keep trying. As the common saying goes, we need all hands to come on deck.
It was fulfilling to witness Persaud travelling from Rose Hall each playing day to contest the Senior National Chess Championship. To offset part of the expenses for persons coming from afar, the Red Cherry Restaurant provided lunches and snacks free of cost. It is regretful that the Londons were not part of the action for the Nationals. I would have loved to follow their games.
Meanwhile, on the international scene, American grandmaster Fabiano Caruana is training for his world championship clash against Magnus Carlsen through his participation in the US Chess Championship. Wesley So is the defending champion. At the start of the tournament, in round one, 15-year-old Awonder Liang secured a draw against Caruana at the Chess Club and Scholastic Centre in St Louis, Missouri. There are three world-class participants in the championship: Caruana, So and Hikuru Nakumura.
In other news, grandmaster and former woman world chess champion Hou Yifan, 24, has been accepted to Oxford University, England, as a Rhodes Scholar. She will be reading for a Master's Degree in Public Policy. Yifan has ceased playing in female chess tournaments. She now plays among the elite male grandmasters of the world.
Around the Web