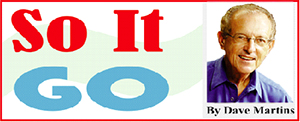 Anywhere we live, mankind has pressing issues to deal with – it's not just Guyana – and everywhere as well, there are bright spots in the gloom.  We become so caught up dealing with the issues affecting our daily lives that we are oblivious to the bright spots, but in fact they are there – we just don't notice them. This week, for instance, four of them landed on me.
The first came following my purchase of a treadmill from the Courts store on Main Street.  The sales person told me that delivery would be likely that very day and that's how it went. The unit was in and operational before 5pm that afternoon.  Further, another Courts employee phoned me the next day to find out if I was satisfied with the purchase and asked me several questions all pertaining to customer satisfaction with the purchase.  Not many organisations do that in Guyana.  It has happened before with only two others I can recall – Balwant Singh Hospital and Farfan and Mendes – but that is certainly not the norm. Indeed, it often ….
To continue reading this article
Comments

There are two slants to this missive today.  The first is that over the years, starting with when I lived in Grand Cayman, I have developed a very productive connection, mostly by frequent email, with some pivotal persons in the Caribbean which has made for some interesting exchanges over time. 

Hardly a week goes by without my hearing from some adult person, sometimes several, about the state of our popular music. 

By now you may have noticed that I am a dialect man.  I'm not sure when that emerged, but it could well have been at university in Canada where, in a linguistics class, the value of our dialect first hit home. 

Amid the various discussions of the diverse factors in play, the fundamental piece in mainstream Caribbean tourism is blue water and white sand; traverse the span as I have, from Puerto Rico in the north to tiny Bequia in the south, one will see that, and it is an understandable pull. 

Born and raised in Guyana, and coming back every year as a visitor since 1968, I assumed I knew the country well.