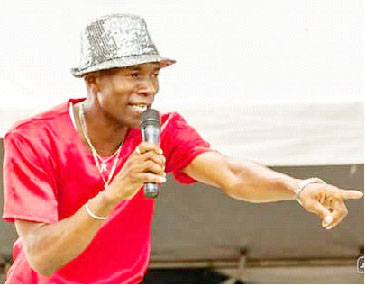 Two-time Calypso Monarch, two-time Chutney Monarch and five-time Shanto King, Roger 'Young Bill Rogers' Hinds is gearing up for three competitions in the upcoming Mashramani season.
This year will see Roger entering the Chutney Competition with "My Larkie Always Fretting", the Soca Competition with his power Soca song "Money Power Dance" and the Calypso Competition with "Ah Grading Dem Bandits".
Roger thought to do Soca this year with all the hype this particular competition gets. Usually, he said, this competition clashes with the dates for the others he would already have entered, but this year each competition is scheduled for separate dates allowing him to compete in all three. Part of participating in the Soca Competition, Young Bill Rogers shared, is to show his versatility and love for this genre in answering critics who labelled him "just a Calypsonian." The last time he did power Soca was in 2013, the same year Jumo Primo won his first Soca Monarchy.
"My Larkie [Girlfriend] Always Fretting" tells the story of a nagging girlfriend. Whenever the singer leaves work or to do a gig, she believes that he is playing around with other women and so is fretting for him to be constantly with her.
"Money Power Dance" speaks about the power of money. At the same time Roger tries to make it a fun song by including gyrating because of money power. Both of these songs have just been recorded at the BKVJ Studio in Berbice (a recording label under the management of Chutney artiste Bunty Singh).
"Ah Grading Dem bandits" is still to be recorded. The Chutney and Soca songs are soon to be released for airplay on 100.1FM, 98.1FM and possibly 94.1FM. Roger is hoping also that his songs will be played on the airwaves in Canada and the USA.
Young Bill Rogers is also making plans to produce a play that portrays the life of his father, Bill Rogers, which would detail his father's life from his upbringing to his demise through drama and music.
The dates for the competitions are: Calypso finals, February 16; Chutney finals, February 17 and Soca finals February 18.
Roger took the opportunity to also thank all those who have been part making of his songs possible.
Around the Web