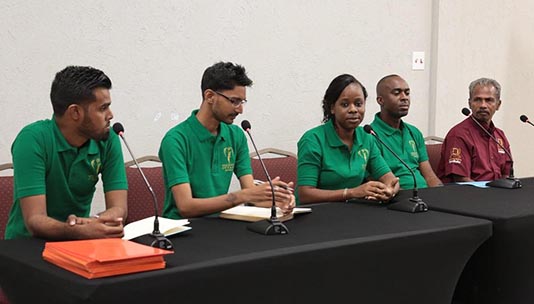 The Miss Earth Guyana franchise is under the ownership of Guyana Premier with its National Franchise Director being Dave Lalltoo and last week Friday saw the launching of the pageant at the Roraima Duke Lodge where the Miss Earth Committee took the opportunity to share plans and upcoming events.
The Miss Earth International Pageant is said to be among the top three in the world and is gaining popularity since more than 100 countries are expected to participate this year. Its 'Beauty For A Cause' campaign which focuses primarily on raising awareness across the globe is believed to be one of the main reasons the pageant has gained such status.
Addressing the media were Lalltoo, Assistant National Director Dr Latoya Gooding, Managing Executive Dr Omesh Balmacoon and Events Coordinator Myron Stephens.
According to Gooding, with 95% of all cancers being caused by environmental factors she plans on working along with the contestants on this issue to highlight ways in which an active lifestyle can bring about change. "… This is something that has not been done thus far on the international stage, so we are trying to see how strong we can build this idea and possibly take the world stage by storm," Gooding said. In the past, it has been recognized that some pageants take to having the local leg of the pageants overseas and/or having foreign designers create their pieces. However, Miss Earth Guyana is going all-out Guyanese and will be recruiting an all-Guyanese team of designers, choreographers, trainers and former beauty queens that will boost the pageant into creating something the country would be proud of. The pageant will also be collaborating with both governmental and non-governmental organizations.
Miss Earth Guyana is going the extra mile to give every woman wishing to participate in the competition an opportunity by having the preliminary rounds held in Bartica, Leguan, Berbice and Linden. These of course, will all culminate in the final coronation night which will be happening in Georgetown. Balmacoon said, "Many young women have that passion, they have the talent, ideas and creativity and they are looking for an outlet like this. Why deprive them when we could nurture that?"
Stephens added that it will not be a usual pageant but will involve a proactive approach to sustainability and cultural extravaganza. The categories will include the talent, swimsuit, costume, evening gown and of course 'Beauties For A Cause'.
The last Miss Earth Guyana Pageant was held in 2010 when Soyini Fraser was crowned queen and went on to represent Guyana at the international leg in Vietnam. However, five months later, Fraser was stripped of her title when Simpli Royal, which owned the franchise then, announced her dethronement because of "irreconcilable differences". The Miss Earth Guyana remained without a queen until Stacy Ramcharran won in 2014. There has not been another pageant since then.
The Miss Earth Guyana Organisation is urging young Guyanese women who fit the criteria of being between the ages of 18-25 years, unmarried and standing at least 5'6" (167.64cm), to apply via its website www.missearthguyana.com. The contestants will benefit from sponsored ecotours across Guyana, environmental seminars and conferences, branding opportunities and much more. The 2018 queen will benefit from a prize package of over $1 million in cash and other prizes.
The Miss Earth Guyana has no runners-up, but three lucky contestants will have the chance to become Miss Earth Guyana Fire, Miss Earth Guyana Water and Miss Earth Guyana Air. They will accompany Miss Earth Guyana 2018 in her outreaches around Guyana.
The organization would like to acknowledge and express their gratitude to Demerara Bakery and the brand Dembake for being the official sponsor for the 'Beauties For A Cause' aspect. It would also like to invite local companies to get on board and sponsor the contestants.
The Miss Earth Guyana Organization has of yesterday done casting in Success, Leguan and will be casting at Palm Springs in Bartica between 11 am and 12 today.
Around the Web