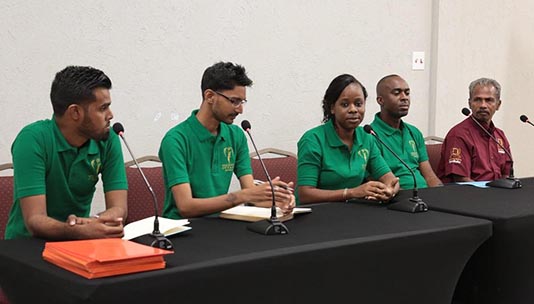 The Miss Earth Guyana franchise is under the ownership of Guyana Premier with its National Franchise Director being Dave Lalltoo and last week Friday saw the launching of the pageant at the Roraima Duke Lodge where the Miss Earth Committee took the opportunity to share plans and upcoming events.
The Miss Earth International Pageant is said to be among the top three in the world and is gaining popularity since more than 100 countries are expected to participate this year. Its 'Beauty For A Cause' campaign which focuses primarily on raising awareness across the globe is believed to be one of the main reasons the pageant has gained such status.
Addressing the media were Lalltoo, Assistant National Director Dr Latoya Gooding, Managing Executive Dr Omesh Balmacoon and Events Coordinator Myron Stephens…..
To continue reading this article
Comments

Kareem 'cKush' Lewis's latest song "Another Day" has been blowing up the airwaves on 94.1 Boom FM and 98.1 Hot FM since its release last month.

Poetry on a stool and tassa drumming are among the treats as the Rupununi Music and Arts Festival continues today at the Manari Ranch.

Police Constable of Brickdam Police Station Michael 'Smallie' Small placed third with his song "Help Meh Stop the Violence" at the Junior Calypso competition on February 3, at the Mahaicony Fun Park.

Renata Burnette has been lighting up the poetic stage for the last two years.

Reggae/dancehall singer and songwriter Owen Adams recently released his brand new single "Life Too Short".