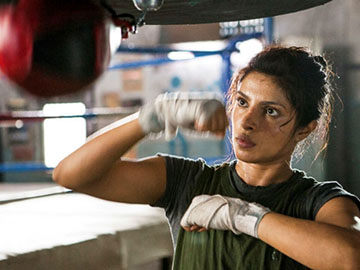 The Indian Cultural Centre will host a free screening of the Indian biographical sports film Mary Kom at its 67 New Haven, Bel Air, Georgetown location at 4.30 pm today.
The 2014 film is directed by Omung Kumar and produced by Sanjay Leela Bhansali. It stars Priyanka Chopra in the lead role of the eponymous boxer, with Darshan Kumar and Sunil Thapa in supporting roles of her husband and mentor, respectively.
Mary Kom depicts Kom's journey of becoming a boxer to her victory at the 2008 World Boxing Championships in Ningbo. The film marks the Hindi playback singing debut of Priyanka Chopra, who provided her vocals for a song named "Chaoro" (a lullaby). Chopra underwent extensive physical training for three months to attain a muscular physique and learned Kom's distinct boxing style. The film won the National Film Award for Best Popular Film Providing Wholesome Entertainment and Best Actress for Priyanka Chopra.
Comments

Two Fridays ago, Onikha Joseph clinched the coveted Calypso Monarch title after stiff competition from ten other contestants before a large gathering at the National Park.

On Sunday last, contestants of the I'm A Big Deal Miss Berbice Beauty and Empowerment Pageant put aside the glitz and glam associated with pageantry to team up with the police of Rose Hall Outpost, the mayor, workers of the town council and youths in a clean-up exercise around the Berbice town.

Drummers from around will soon have the opportunity to participate in the country's first drum festival next week Sunday and the chance to win over $1 million in cash and prizes.

New graduates of the National School of Theatre, Arts and Drama are expected to entertain patrons next Saturday, when they perform in Michael James's Skin Teeth Nah Laugh, a comedy.

These little ones from the Cherry Blossom Play School in Kingston yesterday had their part of Mashramani celebrations when the school held a mini parade.