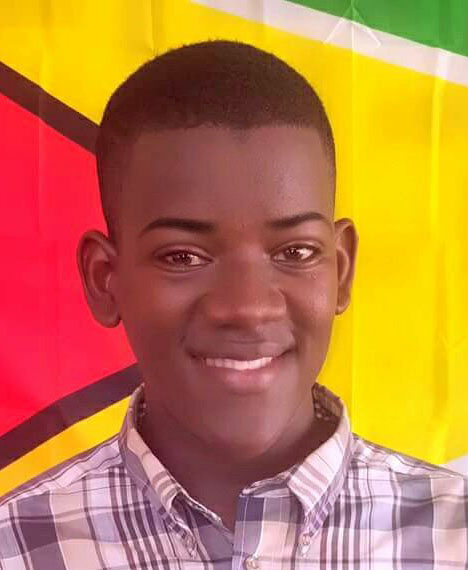 Police Constable of Brickdam Police Station Michael 'Smallie' Small placed third with his song "Help Meh Stop the Violence" at the Junior Calypso competition on February 3, at the Mahaicony Fun Park.
Small, with the help of manager and Sergeant in the Guyana Police Force String Band Beverly Smith, took to highlighting and pleading with his audience through his song to stop the violence.
The song highlights violence, teenagers being raped and mothers losing their children, issues that he believes are becoming prevalent in Guyana.
This is the third time Michael has participated in the competition but because of his age, it is also his final year. However, this allows him to compete in the senior competition next year.
Michael has always known that singing was what he was going to do even if it was part time and he began giving performances when he was eight years old at his home church. He later performed at the children's Mashrmani competitions, usually bagging the first place at the regionals and finishing as one of the runners-up at the national level.
This led to him participating at in one of what used to be the GT&T Jingle and Song Competition where he finished as the first runner-up.
Speaking about collaborating with Sergeant Smith in producing the song Michael said, "… The Guyana Police Force would normally have a concert in December and that's where she first heard me singing. I was not sure if I had wanted to enter the Junior Calypso Competition this year because time was short. I had four days until the Monday to submit my song so Thursday after I called her about assisting me in constructing the piece and she said yes so having already written something, I took that to her and she made some changes to the lyrics. On Friday when she showed me the new song, I quickly fell in love with it because of the message it sent…."
The police constable made mention that his supporters have always had his back and he expressed his gratitude especially to his family, colleagues and staff of the Court Superintendent Office 'A' Division. He also singled out Sergeant Smith and "Berbice people" especially those of Hopetown, West Coast Berbice where he hails from.
He added that those in the police force who are familiar with him, have mentioned how proud they are that he came in third in the competition. It was also a new side of him for them to see so there were those who were shocked yet pleased to see the 'entertainer side' of him come alive and welcomed it.
"I would like for my fans to know that this is only the beginning of bigger and better things to come…", Michael said, adding that he plans on taking on the senior level of the completion come next year. The artiste who also dabbles a bit in the soul, gospel, R&B, reggae and dancehall genres also hopes to become more involved in the entertainment arena and begin recording as soon as he can. He hopes in a few years' time to release his first R&B album.
Fans can visit Michael's Facebook page at 'Mikey Mickeal Isaacs Small' or look for Mikey Small on YouTube for a listen to his songs.
Coming first in the Junior Calypso Competition was Javinsky Thorne while policeman in training at the Felix Austin Police College, Jamal Stuart placed second.
The senior level of the competition was held last evening at the National Park.
Around the Web