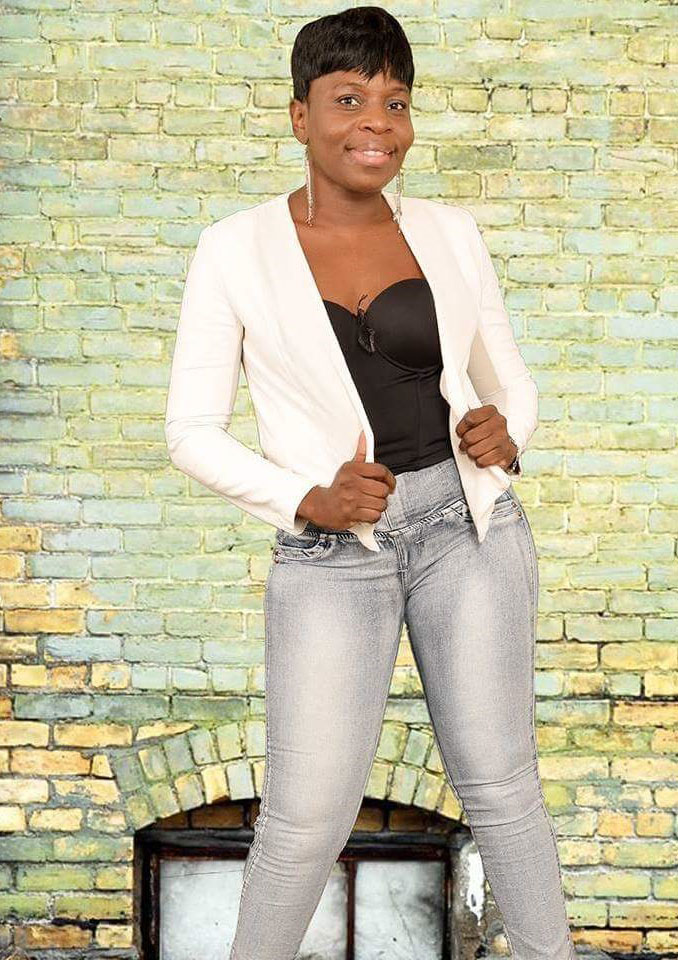 Two Fridays ago, Onikha Joseph clinched the coveted Calypso Monarch title after stiff competition from ten other contestants before a large gathering at the National Park. Onikha's song "Women Is Boss" garnered loud cheers from the crowd.
"It feels great to be the Calypso Monarch because many persons told me that first-time competitors don't usually win that competition," she told The Scene in an interview.
The song was written by Kross Kolor Records boss Burchmore Simon and speaks about the women who remain strong despite trials and tribulations; it highlighted magistrates, lawyers and doctors along with Minister Simona Broomes.
The Calypso Monarch has a few other genres tied to her name including Soca, but Soul and Gospel are her two favourites, given that she grew up singing in church.
Onikha comes from a long line of singers. Her uncle, 'Wild Fire' was in Calypso Competitions himself, while Wild Fire's son, Abdala Benjamin entered the Children's Calypso Mash Competition some time ago. Another young cousin, Abeda Benjamin, won one children's competition, while another uncle has written and sung songs.
As far back as Onikha can remember, she was often put in the spotlight to sing at family gatherings and at the Hopetown Congregational Church and Fort Wellington Anglican Church. Since her kindergarten years, family and friends always encouraged her to keep singing. Her late aunt, Florence Joseph, was always at her to sing, she recalled adding that her parents were always supportive also.
Onikha kept at it and was usually the songbird at the schools she attended over the years (Hopetown Primary, Bush Lot Secondary and Berbice High) and even while she was at teachers' training college in New Amsterdam; she would perform on special occasions.
She won the national In Search of A Star Competition in the late 90s. This, she said, meant a lot as it was her first win. Then in 2001, she placed fifth at the then GT&T Jingle and song Competition, the same year Brandon Harding won. She later placed third at the Soca Competition, winning the Best Newcomer Award that same year.
The teacher who hails from Hopetown, West Coast Berbice was all smiles as she reminisced about the night of the competition and the years that led up to it, a good example of not giving up and making a lasting first impression at this kind of competition.
"Music is an innate part of my being…," Onikha said adding that without music, she would be stripped of her identity.
Onikha noted that artistes here do not have the level of support they need. The artiste went on to say that this is not such a big issue and can be remedied if Guyanese music is better promoted in Guyana.
As a singer the stage allows her to highlight various issues. Another advantage, she noted, is that artistes are respected for their talent.
Over the years, she has been inspired by some of the greatest to have graced us with their mesmerizing voices: Celine Dion, Whitney Houston and Tina Turner. And while this other inspiration is no song bird, she's always been inspired by Oprah Winfrey who she believes is one of the most inspirational, influential and remarkable women of all times. If she could have it her way, this would be the woman she would want to meet; a woman she'd distinctly sees as "a boss".
Onikha, co-founder of the Academic Enhancement Centre advised young aspiring artistes to remain true to themselves as they strive towards their goals. Asked whether she thinks education plays a pivotal role in the lives of artistes, she said it does and further admonished young singers still in school to ensure that they take every opportunity to acquire a sound education since it is one of the most important keys in unlocking their success.
In another decade, Onikha hopes that she would have accomplished becoming a musical ambassador for Guyana as well as an advocate for child protection.
She describes herself as a "people person" who holds to values of being respectful adding that people wanting respect have to first give respect. She is also a family-oriented person who loves to interact with children.
In her free time, she can be found reading or listening to music; she also loves interacting with children, singing and dancing.
The artiste apart from the title won herself a cash prize of $800,000 also.
Fans can access Onikha's music via YouTube; she recently released a song called "Dutty Story".
Manoel 'King Perai' Ferreira finished in second place just 9.5 points behind Onikha's 246 with his song "Deh Frighten Green". The defender of last year's title, Diana Chapman, placed third with her song "Something Coming" at 236 points; last year's Junior Calypso Monarch T'shanna Cort finished fourth with 235.5 points.
Around the Web