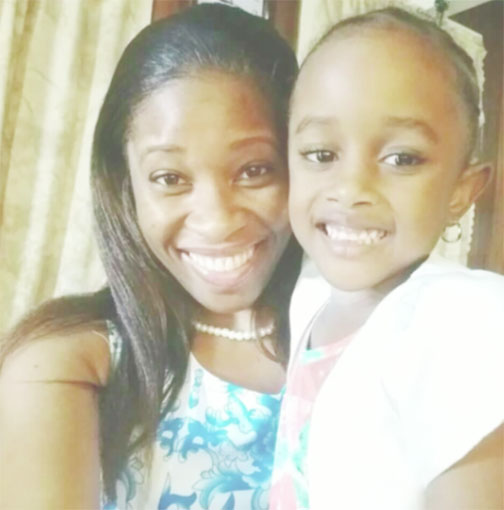 'Do art, nobody ever fails it' were the words that began Tonya Edinboro-Williams's creative journey. Although Tonya, a graduate of E R Burrowes School of Art and final year University of Guyana student in Fine Arts, has been a professional artist for nine years, her exposure to art was really instigated by her Charlestown Secondary School form teacher.
While a fourth former, Tonya, apart from her compulsory subjects, had the option to do art or Spanish and went with the latter. However, there were some boys in her class who when asked by the Art teacher which subject they were doing would respond Spanish but when they encountered the Spanish teacher and the same question was posed their response was Art.
Catching on, their form teacher, who was also their Mathematics teacher, advised that they should choose Art as the special subject as no one at the school had ever failed it at Caribbean Secondary Education Certificate (CSEC) exams. He further said, according to Tonya, that if they wanted they could drop the subject when they got to fifth form; at the time all the teacher wanted was to see that the boys did something constructive with their time. Though his words meant nothing to the boys, Tonya heard them. Still indecisive as to which subject to do, she did them both: Spanish one week and Art the next and rotated the subjects throughout. Her first Art assignment she recalled got 80% and the following year on writing the CSEC examination, she obtained a grade two in Visual Arts.
Having completed her secondary education, Tonya refused to go further in art. Then one day, someone dear to her insisted that she take her art further. At first, she paid no mind to the advice, but it always came back to her and she eventually applied to the E R Burrowes School of Art. Four years later she graduated from Burrowes majoring in Leathercraft and minoring in Graphics with the Best Graduating Student award. Even with her Diploma in Art, she still did not see it as a full-time and financially-rewarding career in Guyana, so she applied to teach and the following year was hired at Cummings Lodge Secondary as the Visual Arts teacher, where she remains today.
Over the years, Tonya has questioned again and again, "Who am I? Why am I who I am and can I better the version of who I am? Often in my introspective state, these are the questions I ask myself. However, a year and half ago I thought that I hadn't scratch the surface yet of who I am and why I am who I am."
Times like those when she was on a soul-searching process and tried to reflect on her life, she would write but this time was different; she realized that only her work could really explain who she really is as woman, mother, artist, teacher, student, Christian. So she picked up her brush to tell her story.
In 2017 the Faculty of Education and Humanities of the University of Guyana held an art exhibition at the Umana Yana, where Tonya launched her collection 'Who Am I?'
Her work spoke about the pain she endured through love. One piece, 'The Cleansing Tears' speaks of a single parent, teacher and student overwhelmed with responsibilities and feeling trapped at times. The tears, caught in a bottle, represent femininity and the love and strength of a woman, of a mother. Another, 'Mother and Child' speaks of the bond between a mother and child. 'Transparent Goddess' represents her strength, elegance and purity. She used the Heliconia flower to tell of this. Some of Tonya's other work speak about when she's joyful, about hope, unity and the nature-loving person she is. 'Who Am I?' goes in depth to describe the artist.
Artists, Tonya noted, have always been challenged by a number of things. Two specifics are materials and finance. Since Guyana is not big on art, artists have to go searching online for art materials. If Guyana had a store that catered strictly for artists, the woman said, things would have been much easier. When it comes to being financially challenged, it is actually a byproduct of disrespect for art. Because many people refuse to see the time and effort and finance and creativity put in by the artist themselves, they are always trying to negotiate for much less than a piece actually costs. What's sad is that many of these persons should be more supportive and in general friends should not try to wrangle huge discounts.
For Tonya, being an artist pays, maybe not as much as it should financially, but in terms of knowledge. Whenever, Tonya's daughter needs an outfit for school, she can create one and whenever she needs curtains, she gets busy.
Over the years Tonya has been inspired by various artists as well as her form teacher. She was also inspired by a former classmate Geru Gordon with leathercrafting; and Ohene Koama, her former art teacher at Charlestown Secondary with the tiny turtles he made out of wood. He taught her and the rest of his class to make soap sculptures. But she has mostly been motivated by the work of Guyanese artist Winslow Craig. "I fell in love with Winslow Craig's work. He is absolutely one of my all-time favourites and I feel privileged to have met him," she said. Baroque Art Moments is another one of her inspirations as artists featured are believed to have produced work in an art period considered to be dynamic and diverse.
Asked what she thought of persons giving up education to solely follow art, she said, "Education is necessary for art. As an artist the more intellectual you are, your creativity is being fed. Some of the greatest artists were scholars… Some of our own art scholars are Winslow Craig, Stanley Greaves and Dominque Hunter… So yes, you can be talented but if you don't feed that talent your work will lack substance, direction and focus. This is not to bash self-taught artists, but they would tell you of some of the problems they would have faced during their years of practice when the technical aspect took them years to come up with a solution; some got solutions from reading and researching and others from constant practice. They would have had to work double times harder than if they had just gone on to complete to school…. Having an education adds merit to you as an individual and an artist."
There was a time when Tonya could have simply pulled an all-nighter working on a piece but with more responsibilities and her role as a mother being her top priority, it's not that simple anymore. If it is something really simple it might just take her a day, but a piece can take up to two weeks or a month to be completed.
How has art bettered her? "As a person it adds to my self-esteem and self-worth. Being able to use my hands and thoughts to create tangible work is a blessing and a God-given talent I won't trade for the world. As a mother, I am my daughter's superhero because of my creativity which she is proud of…"
Tonya who has done some work on the walls of her daughter's school – Edenhaven Primary – is thrilled that her daughter and her friends can see her work. "Art has also provided an extra income for me from time to time which helps to improve my quality of living," she noted.
For Tonya, what we would call free-time, she calls her time-out as she's always on-the-go but during these times she likes to cook, bake, eat and create with her daughter. She likes listening to music too.
When asked what her favourite colour was she said, she doesn't have one in particular, but as an artist reds, yellows and violets appeal to her. "Colours make me feel happy so no one colour can do the trick."
Tonya loves working with graphite and charcoals when drawing but when painting she mainly uses acrylics. Most of her work surrounds surrealism, abstract and semi-abstract.
Tonya hopes that she leaves a legacy of not only how important art is to life but that even as a single-parent, a woman can still achieve her dreams.
She is a trained teacher and is in her final year at the University of Guyana pursuing a degree in Fine Arts.
In a few years' time, she hopes to be a household name in Guyana where people will get to know more about Tonya the artist instead of Tonya the teacher. Interested persons can make contact with the artist on her Facebook page under the name Tonya Williams or on her number 612-5636.
Around the Web