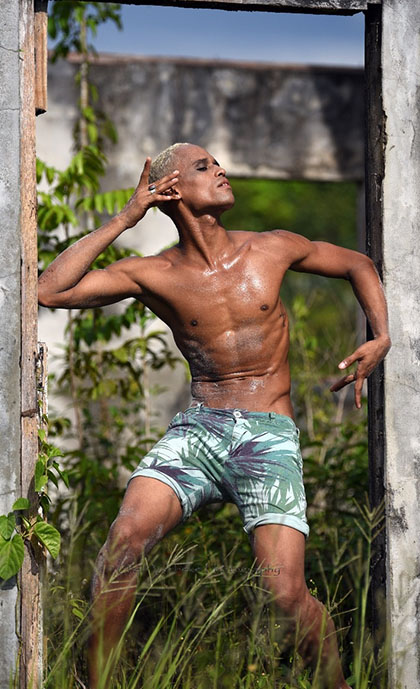 Can exuberance look graceful in a ballet performance? Yes. And Isaiah Luther is the man who makes it happen. Isaiah's passion pushes him to new heights and he scales each one as he goes along.
Isaiah's last performance was a duet with one of his students, Mikel Andrews, that left the audience at the sashing of the Miss Earth Guyana speechless and absorbed.
"I began dancing at the age of seven in church. My parents were pastors," Isaiah explained.
By age 13, he had joined the Classique Dance School where he remained for two years, before joining Let's Dance Studio and spending almost two years there as well. Later, when he returned to Trinidad where he had lived from one until he was seven, he joined the Caribbean School of Dancing and then the Metamorphosis Dance Company.
Back in Guyana, Isaiah returned to Let's Dance as the artistic director. Then in last year May, he fulfilled a dream of his, opening the New Generation Dance Studio.
He has close to 15 students, some of whom who learn classical ballet and a handful who are there 'dancercise' workout classes.
Without dance, Isaiah could never truly be Isaiah since for him dance is not just an expression of feeling, but also an expression of him. "Being a guy, being artistic, doing dance was hard. I was often teased but I pushed for it because I loved it and my parents were very supportive. As a child I was quiet and was teased all the time so dance for me was an outlet," he shared.
Isaiah's father was a tailor and as a child he would play with the scraps on the floor. He would sometimes take his sisters' dolls and make them new outfits, which he said he would not call designing as he was just playing around. He knew he was different and would never be seen as normal by society and so instead of trying to fit in, he did what made him happy.
Today, designing is something he does, and he has since launched three collections. Although his pieces make statements every time they hit the runway, Isaiah said he is not a serious designer because for him it is more of a hobby.
Dance helps to keep one healthy and fit and one never sees it as something that is needed to be done, but with him it is something he desires to do because of the fun of it. The young man added that it is easy for him because he has completely thrown himself into it and to be a good dancer, one needs to be discipline. Another advantage is getting to meet new people.
Asked about disadvantages, Isaiah said he could not think of any, except for dancers sustaining injuries that could end their careers.
Dancing requires fitness and skill, so, especially for male dancers, lifting weights would help when it comes to having to dance with partners. A dancer needs to eat healthy, Isaiah said, and he tries to maintain a balanced diet. Because he's always dancing and burning calories he does not have to worry about having too much carbs; proper rest is vital too.
Dancers in Guyana, Isaiah said, do not have the support they need from the public or the government. The arts sector in the whole, he lamented is lacking support. "One of the reasons for coming back to Guyana was really to share my knowledge here. We have the National Dance Company and the National School of Dance here, but as good as they are they too can use support…," he said.
Isaiah further appealed to young upcoming dancers to understand that education is important and should always come first.
Asked if he could meet one person alive or dead who would it be and why, he said his father. "When I was growing up I was a bit rebellious and just before my dad passed away, he was at home sick and I wanted to go to the rehearsals. My mom told me to stay but I went anyway. I got a call that day that my father had passed. This experience has taught me to be more aware of what's going on around me and not because I'm passionate about something I should forget about the world around me and the people who matter. I didn't think my dad would die and if I could relive that time, I'd have listened to my mom," he related.
Isaiah said he and his mother spent a great deal of time together, but his father had always been busy taking care of ten children and a wife and he felt his father did not have the extra time where he could bond with him. "I felt if we had more time together, I could have learnt more from him."
Apart from being inspired by hardworking parents Isaiah is also inspired by ballet dancers Mikhail Baryshnikov and Carlos Acosta. His friends inspire him too he said, mentioning that most of them are from within the arts sector, so he likes being around them and drawing from their experiences. "My family is also artistic. If they aren't a pastor, then they are involved in the arts.
"I'm hoping that in the near future I can be under the RAD [Royal Academy of Dance] so that the level of dance will evolve in Guyana and we can have more qualified dancers here," Isaiah said.
New Generation Dance Studio is one of two schools in Guyana that focuses strictly on classical ballet.
Isaiah is also a model attached to Traits Model Management. He has walked the runway at various fashion shows including Guyana Fashion Week, Strut II and the MAFB (Music Art Fashion Battle) in the Netherlands.
In Trinidad he has danced in West Side Story: The Musical and 'Trodding On' with Metamorphosis Dance Company. In Guyana, he was in 'May Blossoms' with Let's Dance Studio.
Isaiah's collections were showcased in 'Dare To Be Woman' and 'Funk Me', part of the Living the Arts Showcase in December 2013; three years later, he launched his third collection at his own fashion show, 'Red' in September 2016 and the following month, 'Red' hit the runway at Suriname Fashion Week.
New Generation Dance Studio is located at 137 Waterloo Street opposite John Lewis Styles. The studio can be checked out on its Facebook page New Generation Dance Studio/Guyana while his designs can be viewed at Isaiah Luther Designs. Isaiah can also be contacted on 698-6322.
Around the Web