Two Saturdays ago, the Georgetown School of Ballroom and Latin Dance along with Let's Dance brought intrigue 007 style to the Umana Yana through dance, song and drama leaving an appreciative audience wanting more.
The event began almost an hour later than scheduled as patrons arrived late owing to a heavy downpour but once the programme began, things ran smoothly.
The audience was treated to Paso Doble, Cha Cha Cha, Salsa, Tango and Waltz, which were some of the main dances. They were all choreographed by Director of the Georgetown School of Ballroom and Latin Dance Marlon Nurse and international dancer Oral Welshman. The waltz was presented by the Terpsichorean Dance School and Salsa by the Let's Dance Ballroom School.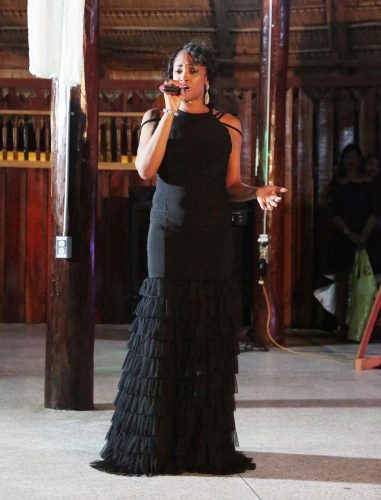 Brian Nobrega was 007 James Bond and he appeared as slick as ever with two gorgeous ladies on his arms dramatizing various parts of the Bond films complete with gun, sometimes doing a quick dance before disappearing again.
Each item flowed nicely with couples enticing the crowd with their moves.
Speaking to The Scene, Marlon said that many persons have since complimented the event and are already anticipating other shows to come and for certain this is the first of many.
The following night at the National Cultural Centre the dancers presented 'Diamonds Are Forever' which won favour with the crowd that included prominent members of society. In fact, Marlon's team put on such an exquisite performance that an award was promised in their honour.
These displays were orchestrated in commemoration of International Dance Week.
The Georgetown School of Ballroom and Latin Dance was once known as the Celestial Imperial which was founded by Nurse. The Terpsichorean Dance School branched out from Celestial Imperial and in turn Let's Dance and Exquisite were formed from Terpsichorean. For some time, it seemed as if Celestial Imperial had dissolved but made it returned at the Hotel Tower as the Georgetown School of Ballroom and Latin Dance in 2001 with Suprya Singh who co-directed with Marlon. Surpriya later left.
Since then the school has been thriving in its ballroom and Latin dance classes. For ballroom dancing the school offers Waltz, Quickstep, Foxtrot, Tango, and the Venice Waltz and for Latin dances those included are the Rumba, Cha Cha Cha, Samba, Paso Doble and Jive. Aside from ballroom and Latin dances, Marlon also teaches social dances inclusive of Salsa, Merengue, Bachata and Line Dance.
"It's a good exercise. You should learn a skill so when you attend weddings you can do something on the dance floor; it's also a healthy way of having fun and keeping fit," he said.
Although he noted that there has been a decline in persons wanting to learn the art of dancing. He said that back when it was popular, persons did not know it all, but there was a competitive spirit. However, because not much persons have the passion for learning dance, Guyana is a long way off from having competitions. For now, it is all about teaching those who are interested in learning the skill. "I want to see us going to a lot of shows for now and once we can get this going, then the competitive spirit will come back," he said.
The school is located at 41D Middleton Street, Campbellville (at the end of the Line Top Road). Interested persons can give the school a call on 227-8850 or 697-3124.
Around the Web