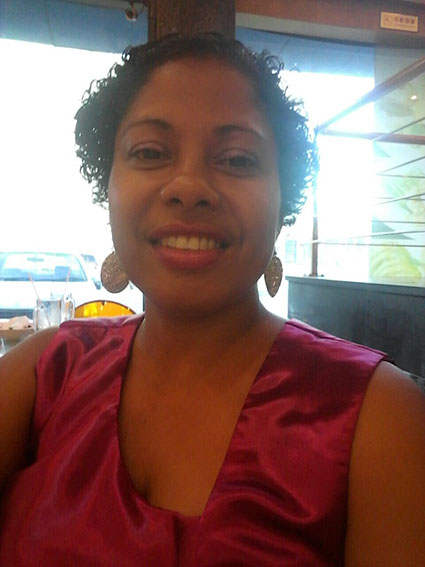 In 2002, Tara Bentinck left the E R Burrowes School of Art with the outstanding honour of Best Graduating Student. Her work has always been regarded as magnificent, whether portrayed on fabric, ceramics or canvas, and work always made statements. Today, people from across the globe are fascinated.
Tara grew up in Golden Grove on the East Bank Demerara and attended Grove Primary School and then Friendship Community High. Her love for art began before she started nursery school, as her parents would buy her paints and she would create. She had no access to playdough but was very imaginative and would use mud to make herself tiny mud fishes, mud people and even pots and spoons. She used long mangoes to make dolls. After the fruit was eaten, the fuzz that was left was used at the doll's hair, then she worked her way into making the face of the doll.
"My mother used to work at the National Printers and she would bring home the paper ends that were discarded for me to use… even today she makes little booklets out of them for me to draw on," said Tara producing a mini-sized booklet and another one a little bigger from her desk.
Both of her parents have played a fundamental role in the artist she has become. "My most memorable times would be going to the seawall every Sunday with my father to pick flowers and pick up seashells. He would take me to places with flowers, so we often went to the gardens as well. He used to love bringing me flowers. I guess this is why I always loved flowers or nature itself," she said.
She remembers spending time on a ship with her family and recalls seeing the moon rising on the water, touching the water with its reflection. It was a magical moment for her.
She was the first student at Friendship Community High to write the Art exam at the Caribbean Secondary Education Certificate level. Unfortunately, her work somehow got lost and was never found. Her teachers encouraged her to write the subject again the following year, but she never did.
It was her father who told her to try studying at Burrowes. She thought she had nothing to lose and decided to give it a try. While there, random persons, sometimes strangers, she said, would comment on her work, express amazement and offer to lend her textbooks to help her with ideas on improving her art.
Upon preparing for graduation, students of the art school are expected to complete a final assignment inclusive of what they are minoring and majoring in called the 'Major Task'. In the months leading up to this, Tara suffered a blow that left her angry for almost an entire month and unable to produce any art; all her work was stolen. Eventually, she managed to pull herself together.
"My major task piece was called 'Time' which was a huge wall ceramic. It had a clock that represented before and after. There were also huge cracks representing disaster," the artist shared. She had more on her plate and her emotions were all over the place; she was still upset over the loss of her work and had just given birth to her son, her second masterpiece. She has three sons now, all masterpieces.
Tara said she left Burrowes a rich woman. Along with the knowledge she gained, her Diploma in Art and finishing as the best student, she was also a wife—having met her husband there—as well as a mother of two. She is living proof that anyone with the will to do so can come out on top.
She kept her smile throughout the interview, also sharing it with the pupils showing up in between to hug and kiss their teacher goodbye. She is the Visual Arts teacher at Mae's Primary School. She radiates humility and appears to be down-to-earth and always kind and willing to help.
Her inspirations are Picasso for his Lino Block paintings and Vincent Van Gogh for the way he uses lines in his art.
"Art is my life. I love art. I enjoy doing art," she said.
Tara would often take photographs of flowers and looking at them create her own stencils which she uses in her work creating different patterns; there is never be one that looks like the other. She uses tie-dye, discharge, acrylic paint and colour pencils on lengths of fabric, ceramic teacups and platters, earrings, kitchen towels and canvas.
One of her pieces called 'The Golden Fleet' was made from scraps of leather and linen with the use of acrylic paint. 'The Golden Fleet' was bought by someone living in French Guiana.
"An artist can thrive in Guyana if they do really good work; you have to also find good locations. You will make it if you make yourself available. Other artists say it's a struggle, but I started my art business with just $4,000 and I keep turning it over."
Her customers come from Linden, Bartica and various parts of Guyana as well as abroad inclusive of such countries in Africa, Argentina, Canada, the US and the Caribbean.
Tara hopes that a bigger space and better location can be provided for artists in Guyana to promote and sell their pieces. For now, all that is provided them is a small section in front of the Guyana Post Office Corporation and it is not sufficient, she said.
The artist has worked in collaboration with E R Burrowes School of Art and the Ministry of Culture, Youth and Sport for eight years (2001-2009) conducting art workshops during the August holidays for both adults and children.
A Cancer-born, she enjoys cooking restaurant-style food, baking cakes and playing indoor and outdoor games.
She has been a member of the Guyana Women Artists' Association (GWAA) since 2005 and has also done a number of exhibitions in collaboration with GWAA where her work has been shown at the Side Walk Café (2003-2004), the Sophia Exhibition Complex (2007), Guyana's Gift and Craft Show (2007), Feminition Women's Exposition (2011), Red Entertainment's Kiss My Art (2013 & 2014), the Inter-Guyana Cultural Festival Art Exhibition (2002 in Guyana and 2013 in Cayenne), CARIFESTA XI (2013 in Suriname), CARIFESTA XII (2015 Haiti), CARIFESTA XIII (2017 Barbados) and An Exhibition of Visual Arts Teachers of Guyana 2017 at the National Art Gallery.
Tara can be contacted on 645-7047.
Around the Web