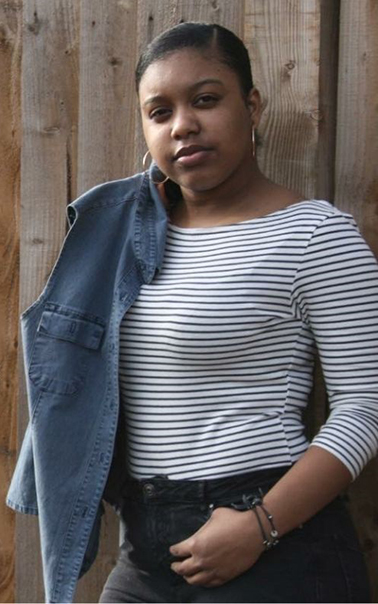 Naomi Horsford who goes by the stage name Young Royalty has moved back to England where she spent some of her early years and has been turning up the heat in the reggae community which led to her being signed to the management of Britain's Got Reggae.
Just about a month after she first spoke with The Scene in July 2016, Naomi said, "… My mom and dad decided that London was the place to be." Her parents, she shared, had been contemplating her move to the UK after advice from several persons within the music industry in the UK. Her mother's UK-based aunt was the final convincing piece of the puzzle. She was visiting Guyana for Emancipation 2016 and was able to hear Naomi perform live at the National Park. She spoke with both of her parents and 12 days later Naomi was on a plane to England.
On August 13, Naomi had an emotional reunion with her dad who she had not seen for nine years. A few short weeks later, she was accepted into East Berkshire College where she completed Math and English along with a Diploma in Health Care. A year after her arrival, she was back to doing her music and began crafting her talent, using it to the best of her ability to apply to Creative College. She was successful in her application and is just finishing her first year as a Vocal Artist Level Three extended two-year diploma. She is expected to finish college in July of next year. Singers Ed Sheeran and Rita Ora attended this college in preparation for their careers.
So far, Naomi said, the journey has been incredible. She has had the opportunity to meet some talented musicians and tutors and was able to learn music from a technological perspective enabling her to create music through this. For her the best part of her two-year programme is yet to come as she has mainly done the theory part of it and is anticipating the practical part.
She has also recorded some new singles: "Teach Meg Please", "Music", "My Shepherd" and "Victim" all in preparation for the launching of her first EP.
She also auditioned for X Factor and Britain's Got Talent and was told that though she is talented, she chose the wrong genre of music. Naomi said this has not
diminished the way she feels about reggae music, instead it has ignited her feelings about it. Reggae for her is more than just a genre; for her it links her to her roots and culture. Not very long after, she was browsing the internet trying to find a reggae competition and was excited when she came upon Britain's Got Reggae (BGR).
Unfortunately, the competition caters for participants 18 years and older and being just 17, she was unable to sign up. However, having heard her single "Invasion" and realizing her talent the BGR team could not look the other way and had her make a guest appearance during the semi-finals. She not only performed there but also at the finals of the show.
Soon after the competition she landed a deal with management of BGR. "I now have my own personal vocalist coach, producer, a videographer and my own band in the making," she exclaimed. "My dreams are coming through lil bit by lil bit with the Most High and my parents on my side."
Naomi took the opportunity to further acknowledge her fans and say a huge thank you to them.  "You're what keeps me singing," she added.
She asked that fans continue to follow her on her Facebook page and they will soon know more about the launching of her debut EP.
Around the Web